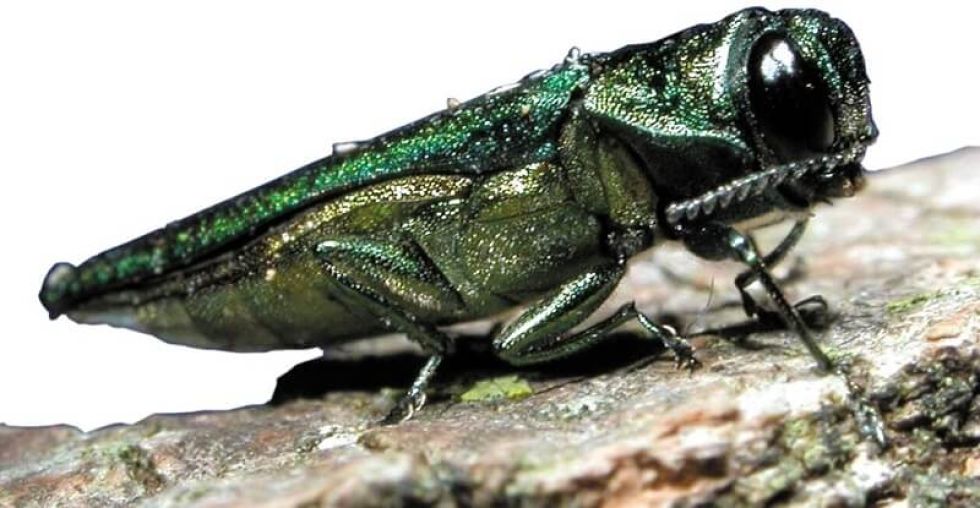 Emerald Ash Borer–Highly Destructive to Ash Trees
Ash Trees in Danger from Ash Tree Borer
The beautiful ash tree, a favorite tree for shade, lawns, and street landscaping, is in danger from the emerald ash borer (EAB). Since the accidental introduction of the beetle in 2002, ash tree damage has spread across North America damaging countless trees.
What is the Emerald Ash Borer?
The emerald ash borer (EAB) is an invasive ash tree beetle. The pest, whose scientific name is Agrilus Planipennis Fairmaire, was accidentally imported to North America from Asia and Eastern Russia in 2002. This ash beetle has destroyed tens of millions of ash trees (Fraxinus spp.) in over 25 states since then. Departments of Agriculture in the US and individual states have warned that the emerald ash borer is dangerous to the ash tree population, whether healthy or stressed. However, emerald ash borer treatment can effectively fight an infestation of the beetle, especially if applied as a preventive measure.
What Does Emerald Ash Borer Look Like?
The emerald ash borer larvae can be up to 1.5 inches long and is off-white to creamy-white colored. The body has 10 bell-shaped segments and the head is rather flat and brown.
An adult emerald ash borer is approximately ½ inch long. The body is bright metallic green with metallic red on the dorsal side of the abdomen. You may see the red coloring when the insect spreads its wings.
What is the EAB Life Cycle?
The adult beetle lays eggs in the leaves and branches of a tree. When the eggs hatch, the larvae bore through the bark and begin to feed on the conductive tissue (phloem) inside, cutting off nutrients. The larvae feed for one to two years, then surround themselves in a chamber over the winter, pupating. When they become adults, they bore back through the bark, leaving S-patterned tunnels (or galleries) and D-shaped exit holes, consuming the bark as they go. The emerald tree borer then flies to the canopy top of the tree to mate, starting the cycle again. An infested tree will die in two to four years if no timely treatment is administered.
Do I Have Emerald Ash Borer?
The first sign of a tree infested with emerald ash borer is a thinning of leaves in the top of the tree. If you notice thinning in the crown, call an arborist to treat the tree. Several methods of treatment are available at this stage. At later stages, the tree bark will begin splitting and there may be sprouts (epicormic shoots) coming from the tree base. Heavy woodpecker activity on the tree is also a sign, as they feed on the larvae.
Signs of Emerald Ash Borer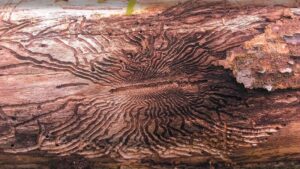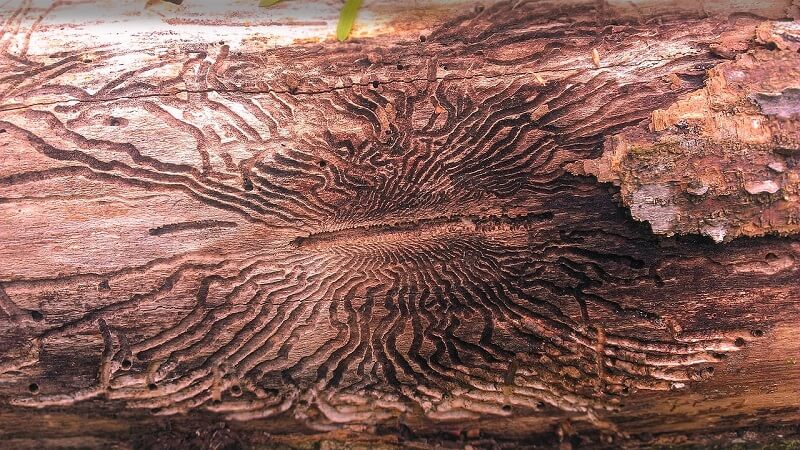 Canopy thinning
Yellowing of leaves
Epicormic shoots
D- shaped exit holes
S- shaped galleries under the bark
Unusual woodpecker activity
How to Check for Emerald Ash Borer
Trained tree care specialists can inspect a tree to learn if EAB is present. If you have seen any symptoms, or if you are worried about your ash tree, having an inspection is recommended. The specialist can check definitively for EAB using a branch sampling technique or through use of a prism trap. Even if the EAB presence is low, the branch sampling method will detect them.
Prevention is recommended if you have ash trees in key areas. Once a tree has lost half of its upper leaves, saving the tree may be impossible. Trees infested to this extent with the emerald ash borer beetle should be cut down and destroyed. Cutting down an infested tree must be done carefully to prevent the spread of the beetle because the ash borer larvae can live up to two years after a tree is felled.
Do Emerald Ash Borers Attack Other Trees?
Recently, emerald ash borer has been found infesting another type of tree with a similar size and biological composition. The white fringetree, also known as Chionanthus virginicus, is a relatively small tree that blooms with white flowers in the spring. The tree, sometimes known as "old man's beard," has been noted in some studies to be more resistant to EAB than the ash tree. Emerald ash borer seems less likely to destroy the entire tree, but homeowners should still be proactive in checking for signs of emerald ash borer.
How Can I Prevent the Spread of Emerald Ash Borer?
Some states have quarantines in place to prevent the spread of the emerald ash borer, but in general, follow these guidelines:
• Buy and burn only local firewood. Eggs and larvae can be present in the wood.
• Ensure that you know the source of firewood that is given to you.
• Have ash and fringetrees inspected regularly.
• Educate others about emerald ash borer.
• Be aware of local policies and regulations regarding EAB and insecticides.
• If you remove a tree with emerald ash borer, follow guidelines or hire a professional certified in the treatment of EAB.
How Can I Treat for Emerald Ash Borer Infestation?
A few treatment options exist, and the chemical options should be administered by a tree care specialist who is certified, since precautions must be taken. If the tree has lost 40% or more of the canopy, removal is the best option, because the chance of salvaging the tree is small and the risk of spread is great.
Four basic categories of Insecticides for effective treatment of EAB exist:
systemic insecticides sprayed on the lower trunks of trees
systemic insecticides applied as trunk injections
systemic insecticides that are applied as injections or drenches in the soil surrounding the tree
protective cover sprays that are applied to the trunk, main branches, and leaves.
If a chemical option is used, care for ash trees differs from that of fringetrees, because fringetrees are insect-pollinated, and the imidacloprid often used is dangerous to bees.
Depending on the value of the tree to the surrounding landscape, you may choose to try treatment. Chemical treatments have shown a high level of effectiveness, but re-treatment may be necessary to prevent re-infestation.
Imidacloprid and emamectin benzoate are the most common chemicals used for treatment of EAB, but as mentioned, imidacloprid is contra-indicated and even unlawful for treatment of insect-pollinated trees.
Some of the available insecticides for treatment of emerald ash borer are:
ACECAP 97 Systemic Insecticide Tree Implants (acephate)
Amdro Tree & Shrub Care Concentrate (imidacloprid)
Astro (permethrin)
Bayer Advanced Tree and Shrub Insect Control II (imidacloprid)
Bayer Advanced Tree and Shrub Protect & Feed (imidacloprid)
Bayer Advanced Tree and Shrub Protect & Feed II (imidacloprid + clothianidin)
Compare N Save Systemic Tree & Shrub Insect Drench (imidacloprid)
Ferti-lome Tree and Shrub Systemic Drench (imidacloprid)
Monterey Once a Year Insect Control II (imidacloprid)
Onyx (bifenthrin)
Optrol (imidacloprid)
Ortho Bug-B-Gone Year-Long Tree & Shrub Insect Control (imidacloprid)
Insecticides that can be safely sprayed on both types of tree are bifenthrin or permethrin. They must be applied at the right time because they target adult emerald ash borer primarily. Some treatment options are only allowed in certain states, so professional care is recommended. Even if the treatment is successful, once trees have been treated, they may require several years to recover and look healthy again.
Call Stein for Certified Professional Emerald Ash Borer Inspection and Treatment
Larvae drilling into a tree and eating it away from the inside, unnoticed from the outside, causes the greatest damage to ash trees and fringetrees. Borer damage to trees does not need to destroy your entire landscape. Contact a professional certified arborist who knows how to protect ash trees from emerald ash borer damage with preventive methods and save your trees when possible with treatment. Our arborists, certified in Delaware and Pennsylvania for the treatment of EAB, know the best and safest insecticides to use, as a preventive measure, on healthy trees. Contact Stein Tree Service for a free consultation today.
Tree care requires specialized equipment for most efficient performance and safety. Tree care professionals often have to cut trees from awkward angles, though our spider lift minimizes those situations. For close pruning, we often use a variety of cordless top handle chainsaws, also called arborist chainsaws. These tools are lightweight and easier to control than standard chainsaws. For trimming and shaping, we also use powered long handled or telescoping hedge trimmers. These tools, along with blowers, vehicles, lifts and chippers, allow us to effectively and safely perform tree trimming and shrub pruning and leave the area clean of debris when finished.
Why Choose Stein Tree Service?
Our staff is the best in the business and has hundreds of years of combined experience. We have Certified Arborists, Certified Tree Risk Assessors, and a long history of crew and property safety.
Our equipment is state-of-the-art and radio dispatched for immediate response. The company fleet consists of several aerial lift trucks, a compact lift, chippers, chipper trucks and stump grinding machines as well as various pieces of machinery for right of way work.
Our reputation speaks for itself. We have served thousands of customers throughout Delaware, Pennsylvania and Maryland,and maintain the highest level of customer satisfaction. The vast majority of our business comes to us via referrals from past customers.
---
CALL US
---
---
REQUEST A FREE, NO OBLIGATION CONSULTATION
---
---
OUR SERVICES
---