Tree Removal
Trees can enhance the natural beauty of your home and even increase its value; however, over time, certain trees may need professional tree removal services. This can involve different methods depending on the type of tree and property involved. Needless to say, tree removal is hazardous and requires expert precision and training. We provide a thorough clean-up of debris and strive to minimize or eliminate injury or damage to surrounding structures and plants.
At Stein Tree Service, our Arborists and tree removal crews adhere to strict guidelines and industry safety standards for tree removal. Our trained team of professionals specializes in professional tree removal services and tree cutting. If you live in Delaware, Pennsylvania or Maryland, contact us for your tree removal project.
Signs that Professional Tree Removal Service is Necessary
If any of these signs are present, be sure to check with a professional certified arborist to see if the tree may be unsafe in its current state.
Dying/dead trees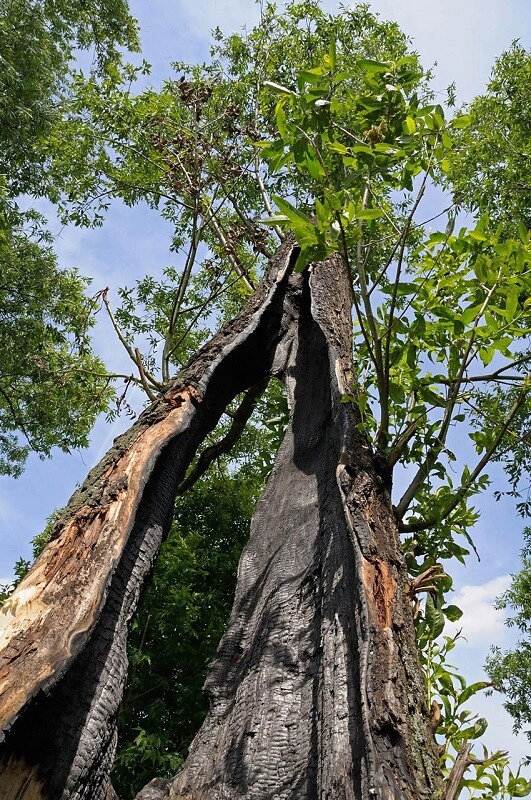 Diseased or dying trees, in addition to looking unsightly and reducing your property value, can pose a great risk for damaging property and injuring people or pets. Even for trees that are still alive, dead branches must be removed because heavy snow and high winds can cause them to fall onto homes, vehicles, and power lines. Protect your family's well-being by removing dead trees right away. Treatment for diseased trees can be considered with our professional arborists to see what, if anything, can be done.
Heavily damaged trees
Healthy trees can be damaged by severe winds, heavy rain, storms, and heavy snowfall. Be sure to look for warning signs in a tree, including weak roots and stumps, hollow areas and splitting.
Tree growth in the wrong direction
This phenomenon is typically common in the case of trees that are located near homes and other structures or power lines. If the branches are growing in the wrong direction, they can be redirected or trimmed. However, if the tree is posing a risk to property, power lines, or may cause other hazards, tree removal is recommended. A tree may also need to be removed if needed to clear the way for an addition or expansion.
Tree roots cracking foundations
Some trees may need to be removed if the roots show signs of cracking foundations in walkways, sidewalks, and driveways.
---
CALL US
---
---
REQUEST A FREE, NO OBLIGATION CONSULTATION
---
---
OUR SERVICES
---
Trees are interfering with power lines
As a property owner, you are responsible for making sure that the pathways around the transmission lines are clear to reduce interference with the power lines. These pathways are referred to as right-of-ways. Our professional tree service company has cleared hundreds of miles of right-of-ways throughout Delaware,  Pennsylvania and Maryland. You can trust that we have the experience, expertise, and equipment to safely and effectively maintain those right-of-ways, keeping them free from tree and underbrush growth.
Frequently Asked Questions About Tree Removal
Below are some of the questions we are frequently asked about tree removal services.
What is involved in the tree removal process?
When we are removing a tree, we use special tools to cut the tree into small pieces from the top to the bottom. This is a far safer method of cutting down trees than simply chopping the base and letting the tree fall on its own.
Tree work is a highly skilled and dangerous profession. Our methods ensure the tree, the property, and the workers, are all safe. When we see that the tree itself is dangerous, we may need to use cranes to help the pieces safely reach the ground. We never use spikes to gaffs on a tree unless we are removing the tree. Occasionally, we use ropes to assist us in lowering large limbs or to swing them away from objects to avoid any damage.
Do You Remove Stumps as Well, and if so What is Involved in Stump Removal?
Yes, we do offer stump removal as an additional service. When we remove stumps we use a stump grinder: a machine with a series of cutting teeth on a cutting wheel. The tool grinds the stump into small wooden chips, cutting back and forth across the stump and cutting down to a depth anywhere between 4 inches and 2.5 feet. The depth of the cutting is determined by how deep the stump is below the ground, which can be affected by slopes, inclines, or tight spaces.
We take the time to trace and remove all visible surface roots within a reasonable distance to the stump. Some small roots do get by us and we cannot be responsible for those. We do remove stumps and roots within approximately 2 inches of concrete, stones, and other obstacles. However, these items may cause damage to the grinder if we work too close, so there may be some areas of the stump we are unable to remove.
IMPORTANT: Our standard procedure is to backfill the stump hole with the chips manufactured in the grinding process. The size of the stump determines the size of the pile of chips. The customer assumes all responsibility for their removal. Wood chips make excellent root mulch for landscape beds. For an additional fee, we can remove the chips and replace them with soil and seeds. The customer is responsible for informing us of any underground wiring, sprinklers, or drainage around the grinding area. The utility companies will be called and stump/root removal may be ceased if the markings are too close.
Do I Have to Get Rid of My Tree(s)?
While wide-trunked trees that tower a hundred feet over a house or building are impressive and awe-inspiring, the important question is whether they are safe. A certified arborist or other tree care specialist can determine a tree's risk of falling if no blatant signs are visible. Some visible signs include dead branches, fungal growth, dieback, or insect infestation. A specialist can also use other testing methods, such as a resistograph test, to determine if the tree is safe, or if there are cavities within the tree that make it vulnerable to falling.
Do Insurance Companies Pay for Tree Removal?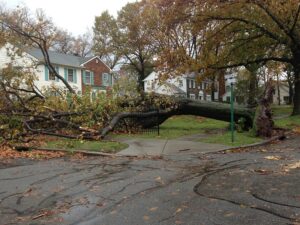 Typically, insurance companies will only pay for tree removal if the tree has fallen onto a structure. Even then, they may only pay to have the portion that is impacting the structure removed. A lot of work may be required in addition to what insurance companies will pay, such as removal of any remaining trunk, stump, and of course, debris from the fall. You may wish to invest in our TreeFall Program if you have many trees, or tall overhanging trees, on your property. The program could save you a great deal of money in the event a tree falls on your property.
How Can I Prevent the Need for Tree Removal?
Regular tree inspection, especially for large trees and those that overhang structures, is a smart idea. Tree trimming and pruning is also helpful, because dead or dying branches will be removed, and thinning out the branches can reduce wind resistance, which can cause trees to fall in strong wind storms.
Do I Need a Permit for Tree Removal on My Property?
The laws and regulations regarding tree removal vary by state and city. Even if a tree is on your private property, you may be restricted in the actions you may take. Many factors are involved in the removal process, such as the size of the tree (is the tree small or large?), the species, whether you belong to a homeowners association (HOA), whether the tree is overhanging or encroaching on structures or properties, etc.
Whether you live in Philadelphia, PA or Wilmington, DE, researching the regulations on tree removal is important. If you have any questions about tree removal in your area, our specialists are here to help you. With our many years of experience, we can advise you on everything you need to know.
Call Stein Tree for Professional Tree Removal Services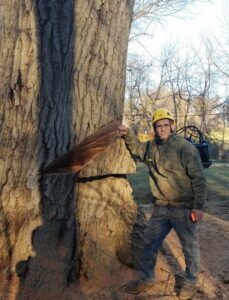 Our professional staff has hundreds of years of combined experience, and we are the oldest independently owned tree service company in Delaware. We have Arborists, Registered Consulting Arborists, Tree Risk Assessors, Licensed Foresters, Certified Professional Horticulturalists, Registered Tree Experts and Certified Applicators. In addition to tree removal and clearing, we provide stump grinding and removal services, right-of-way clearing services, and our unique TreeFall programs.
We have state-of-the-art equipment appropriate for safe and effective tree removal and cleanup. We also provide tree and shrub trimming services. Contact Stein Tree Service for a tree consultation. We will arrange for our Arborists to discuss your professional tree removal service options!
---
Aston, PA 
Brandywine, DE
Chadds Ford, PA 
Chester County, PA
Claymont, DE
Cristiana, DE
Delaware
Elsmere, DE
Exton, PA 
Fairfax, DE
Glen Mills, PA 
Greenville, DE 
Hockessin, DE 
Kennett Square, PA 
Malvern, PA 
Media, PA 
New Castle, DE 
Newark, DE 
Newport, DE
Pike Creek, DE
Ridley Park, PA 
Stanton, DE
Talleyville, DE
West Chester, PA 
Wilmington, DE
Brandywine, Delaware
Claymont, DE
Cristiana, DE
Delaware
Elsmere, DE
Fairfax, DE
Glenn Mills, PA
Greenville, DE
Hockessin, DE
Kennett Square, PA
Malvern, PA
Media, PA
New Castle, DE
Newark, DE
Newport, DE
Pike Creek, DE
Ridley Park, PA
Stanton, DE
Talleyville, DE
West Chester, PA
Wilmington, DE