Ash Trees and Emerald Ash Borer Risks in Malvern, PA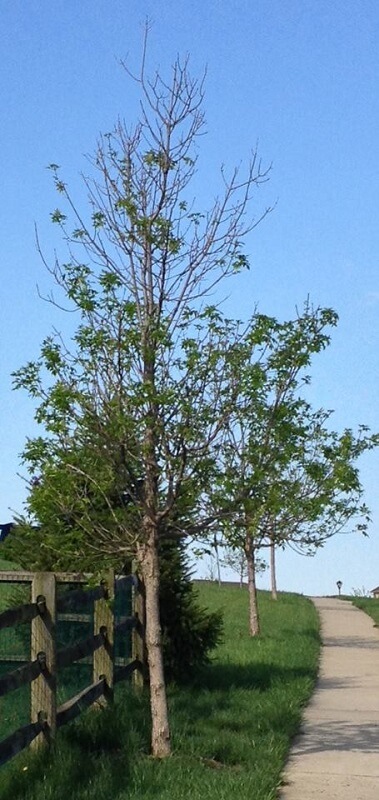 Ash trees are undeniably beautiful. The ash tree's large leaves, branches, and beautiful flowers give broad shade along our streets and the wood of the ash tree provides excellent firewood. Ash trees are prominent in several areas of the United States including the town of Malvern, Pennsylvania.
Unfortunately, the introduction of Emerald Ash Borer into the United States caused massive destruction to ash trees. Millions of trees have been severely damaged since 2002 as these wood-boring beetles have preyed upon ash trees.
The battle against EAB damage continues as we look for a way to cure the problem. Scientists have formulated a systemic insecticide that aids in restoring the ash tree's health. Insecticides only provide a way to prevent the spread and control the damage of EAB but a 'cure' is still elusive.
Emerald Ash Borers
Emerald Ash Borers originate in the warm climate in Asia. These beetles are capable of living in both hot and cold weather. Their natural habitat is a warm climate, but in their native country, a parasitic wasp preys on them and prevents proliferation.
The EAB damage starts when the adult Emerald Ash Borer lays eggs on the ash tree's bark. The incubation occurs during the summer when the climate is warm. As spring comes, the eggs hatch and turn into larvae. The larvae feed on the ash tree's insides to survive. They act as parasites and suck the nutrients and life out of the ash tree. As the green metallic beetles become adults, capable of breeding and invading other healthy ash trees.
Preventive Measures and How to Control Spread of Emerald Ash Borers
Community involvement and knowledge are crucial in helping monitor and prevent further Emerald Ash Borer damage. Communities in Malvern, PA are advised to work hand-in-hand to educate and watch vigilantly for any signs or spread of EAB infestation.
As an ordinary citizen, here are some things you can do to help control the spread of EAB:
Things You Can Do to Prevent EAB:
Buy local and burn local without moving the firewood as EAB eggs and larvae may be lurking in the firewood.
If you own an ash tree, look for signs and symptoms of Emerald Ash Borer infestation. Early detection is critical to restoring your tree's health and preventing further damage. Seek professional help from your local arborist for assessment and treatment.
Educate others about Emerald Ash Borers. Give information about the signs and symptoms, the threat, and the possible effects to trees of neighbors, family, relatives, and friends.
If you receive firewood, make sure to question its origin as some may try to sell infested wood.
Be knowledgeable about the policies, rules and regulations governed in Malvern, Pennsylvania. Every state, town or community has its own policies with regard to the application of insecticides.
If your ash trees show signs and symptoms of infestation, call a professional arborist to give you full diagnosis and treatment for your tree. You may also coordinate with the leading forestry agency to further assist you in any of your questions.
Call 302-478-3511 or 302-731-1718 to get your ash tree consultation.
Stein Tree Service is licensed in Delaware, Pennsylvania and Maryland.