Emerald Ash Borer or EAB Prevention in Delaware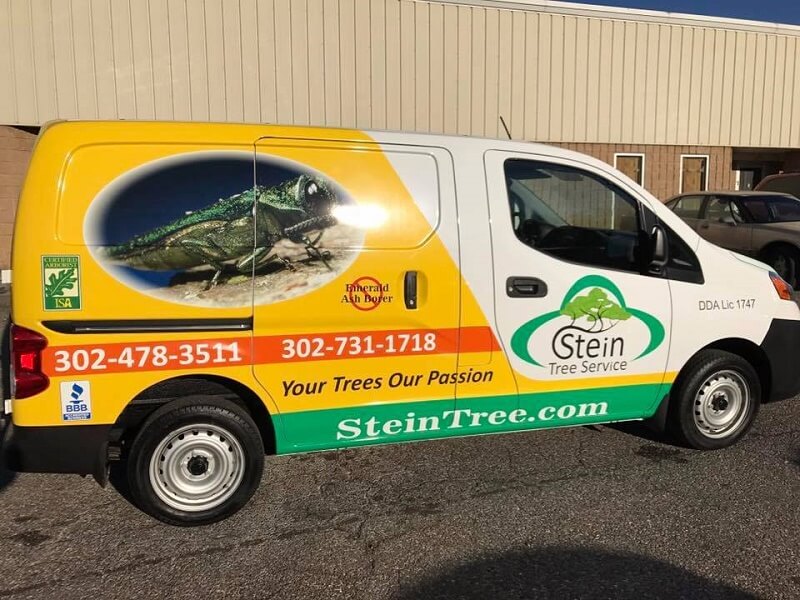 Authorities recommend Emerald Ash Borer prevention for Delaware residents with ash trees. The Emerald Ash Tree Borer is an invasive ash tree beetle accidentally imported to North America from Asia and Eastern Russia in 2002. Since then, this ash beetle has destroyed tens of millions of ash trees in an ever-expanding area, now covering 26 states. Emerald ash borer treatment can combat this EAB infestation, especially if applied as a preventive measure.
Ash trees have long been a favorite tree for shade, lawns, and street landscaping. Ash tree borer symptoms on trees include first a thinning of upper leaves followed by excessive bark splitting and increased sprouting from the base of the tree. These ash tree borer signs may take a year or more to appear, and often it is too late. Larvae cause ash borer tree damage by boring into the tree and eating it away from the inside, unnoticed on the outside.
If caught in time, a certified arborist who knows how to protect ash trees from emerald ash borer damage can save some trees with insecticide. The arborist can also apply insecticide as a preventive measure to healthy ash trees.
Signs of Emerald Ash Borer Damage
If you wait until you see EAB damage, it may be too late for EAB prevention. That is because EAB eggs hatch, unseen, on the leaves and branches of the ash tree, and the tiny larvae then drill into the inside of the tree where they feed on the tree's nutrients unnoticed. In the fall, EAB larvae relocate to the bark of the tree where they continue feeding.
EAB infestation first appears as a thinning in the crown of the tree; this is only the beginning. Without EAB treatment, the tree will die within two to four years, and once cut down, EAB control requires that the tree be disposed of properly to avoid spreading the disease.
Emerald Ash Borer Treatment Can Save Your Trees
Emerald ash borer treatment options include the injection of a systemic insecticide directly into the soil near the tree, or application of a spray either at the trunk or on the branches. The proper method of delivery of ash borer treatment depends on the condition of the soil, location of the tree and other factors. For the highest EAB treatment effectiveness, call a professional tree consultant who knows how to treat ash borer. The emerald ash borer treatment cost is far less than having a dead tree cut down and planting a new tree in the Delaware area.
For best results, call a professional tree consultant that services the Delaware area to help you keep the emerald ash borer from destroying your trees, especially those located in the main areas of your landscape.
Call 302-478-3511 or 302-731-1718 or ask for a consultation to begin your EAB prevention treatment.
Stein Tree Service is licensed to treat for emerald ash borer in Delaware and Pennsylvania.
---
CALL US
---
---
REQUEST A FREE, NO OBLIGATION CONSULTATION
---
---
OUR SERVICES
---