Tree Cabling & Bracing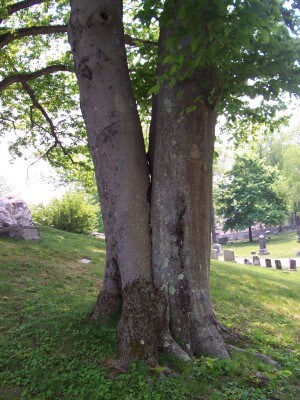 Stein Tree Service's Arborists and Certified Tree Risk Assessors are experts at evaluating a tree's structure and identifying areas of risk and developing a plan to resolve those risks that may include cabling and bracing.
Tree cabling and bracing is a corrective measure taken when trees grow in such a manner that their physical structure can no longer support their own weight. This is particularly common in mature multi-trunked trees and trees with open canopies.
Having a Certified Risk Assessor evaluate your trees in important since a failure of a large branch or trunk can result in property damage, personal injury, or the decline of a tree's health.
Installing cables and bracing rods, along with trimming & pruning can reduce the likelihood of a structural failure. Cables help to redistribute structural stress, and bracing rods can provide support to weak branches. A combination of cabling and bracing can successfully address existing splitting limbs and trunks.
Call Stein Tree Service today to schedule a risk assessment and evaluation by one our Arborists if you have concerns about trees on your property.
Why Choose Stein Tree Service for Tree Cabling and Bracing?
Our staff is the best in the business and has hundreds of years of combined experience. We have Arborists, Certified Tree Risk Assessors, and a long history of crew and property safety.
Our equipment is state-of-the-art and radio dispatched for immediate response. The company fleet consists of several aerial lift trucks, chippers, chipper trucks and stump grinding machines as well as various pieces of machinery for right of way work.
Our reputation speaks for itself. We have served thousands of customers throughout the Delaware Valley and maintain the highest level of customer satisfaction. The vast majority of our business comes to us via referrals from past customers.
---
CALL US
---
---
REQUEST A FREE, NO OBLIGATION CONSULTATION
---