Emerald Ash Borer Information & Treatment in Glen Mills, PA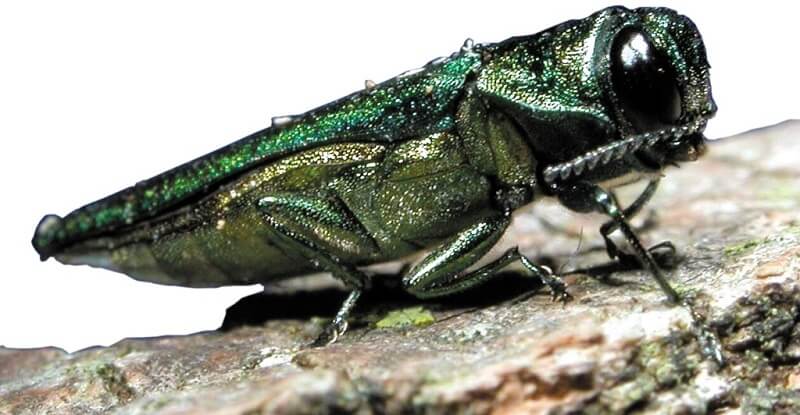 Pennsylvania is one of the many states hit by Emerald Ash Borer infestation. By June 2013, there were at least 30 towns, counties, and cities that experienced ash tree destruction in Pennsylvania. This includes the Glen Mills area. As of this writing, there are 26 states that are dealing with the invasion of these unwelcome wood-boring beetles.
The first Emerald Ash Borer damage incident was identified in Michigan during 2002. Due to lack of preventive measures and control, it has now spread widely to its neighboring states. The Emerald Ash Borer targets the ash tree species. When the beetles are in their natural environment, they are non-invasive due to natural enemies that limit their effect.
Signs of EAB Damage
If you have ash trees on your property, be on the lookout for possible EAB infestation. Weekly tree assessment and vigilance is recommended. The signs of Emerald Ash Borer damage vary over the beetle's life span.
The beetles usually breed during the warm days of  summer. The insects deposit their eggs into the bark and trunk of the ash trees. When hatched, larvae bore into the tree, and borer damage begins. The worm creates tunnels under the bark and feeds on the inner tissues of the tree thus robbing it of nutrients and water. Larvae will eventually turn into the Emerald Ash Borer that is a metallic green color.
Among the signs of Emerald Ash Borer damage to the ash tree is crown-thinning, vertical bark splits, excessive sprouting, protruded serpentine grooves in the bark and eventually D-shaped exit holes which are about ⅛" in diameter.
Save Ash Trees with Emerald Ash Borer Information and Treatment
Slightly damaged ash trees can be treated with certified EAB treatments. However, some ash trees must be removed. The ash tree needs to undergo a thorough examination to diagnose the severity of the EAB damage. If a tree can be saved, a systemic insecticide is applied directly to the soil near the tree. Insecticide will also be sprayed either on the bark, trunk or the branches. The trees should be inspected and given treatment at least annually.
In many situations, ash trees infected with Emerald Ash Borers should be removed and replaced to control the spread of the disease. Often, severely infested ash trees are replaced with maple and oak trees. If you are unsure of the health condition of an ash tree on your property, call a local professional arborist and have the trees assessed.
Call 302-478-3511 or 302-731-1718 or request an Ash Tree Borer consultation.
Stein Tree Service is licensed in Delaware, Pennsylvania and Maryland.
---
CALL US
---
---
REQUEST A FREE, NO OBLIGATION CONSULTATION
---
---
OUR SERVICES
---