Emerald Ash Borer Treatment and Info for Hockessin Residents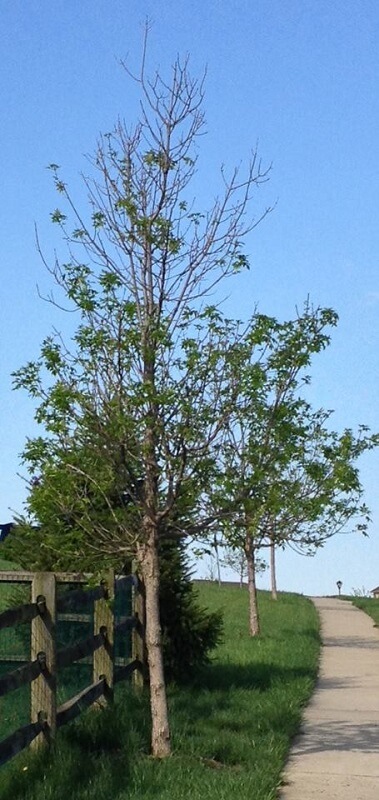 Emerald Ash Borer prevention begins with understanding the threat to ash trees and the actions that the Hockessin, Delaware community can take to stop the beetle's spread. The ash tree's beauty, versatility, and its many uses make it a very popular tree choice in Delaware. The Emerald Ash Borer endangers these trees and therefore your landscaping.
The ash tree belongs to the family of Oleaceae and lives in both warm and cool climate. It can grow from 30 feet up to 120 feet in height and about 35 to 50 inches  in diameter. Ash trees are commonly found in Asia, northern parts of Europe and the United States.
Tree Damage Caused by Emerald Ash Borer
The Emerald Ash Borer, commonly known as the metallic 'green beetle,' has killed tens of millions of trees in 27 states in the United States since 2002. The epidemic has spread widely throughout Pennsylvania and New Jersey and the EAB has recently been found in Delaware. The battle against these wood-boring beetles continues in communities throughout the area, including Hockessin, Delaware.
Signs and Symptoms of Ash Borer Damage
Examination of a tree can reveal the common ash tree borer signs and symptoms. Common symptoms that show tree stress may include thinning of the tree canopy, the formation of sprouts along the trunk and vertical bark splits due to the development or larval galleries. Increased woodpecker presence can also indicate an EAB infestation.
Ash tree borer signs may include visible holes in the bark area shaped like letter "D." The "D" shape is caused by the emergence or growth of cream-colored EAB larvae and woodpecker flecking. "S"-shaped patterns signal larvae galleries. The larvae of EAB feed under the bark and create this "S" or snake pattern.
Things You Can Do to Prevent Emerald Ash Borer
As an ordinary citizen, here are some things you can do to help control the spread of EAB:
Because EAB eggs and larvae transfer through firewood, buy and burn only local wood.
Early detection is critical to prevent damage and spread of EAB. Your local professionals can help with assessment and treatment.
Give information about the signs and symptoms of the Emerald Ash Borer to neighbors, family, relatives, and friends.
If you purchase firewood, question its origin.
Know the policies, rules and regulations governing Hockessin, Delaware. Individual states, towns, and communities have their own insecticide policies.
There are several insecticide products available in the local Hockessin market to control and treat the Emerald Ash Borer. However, there are several things to consider before treating ash trees as only some trees are treatable while others need to be removed. Treatment considerations include the overall health, location, and value of the tree and then make decisions depending on the severity of the Emerald Ash Borer infestation. Long-term costs should also be considered, factoring in the cost of maintenance and yearly insecticide expense.
Most of the approved insecticides contain imidacloprid and are applied in trenches around the base of an ash tree. Before purchasing at the local hardware stores, it is important to check the label and understand the treatment. Homeowners may also contact a certified arborist or certified pesticide applicator that services the Hockessin, Delaware area to treat their trees.
Call 302-478-3511 or 302-731-1718 or get your ash tree consultation here.
Stein Tree Service is licensed to treat for emerald ash borer in Delaware and Pennsylvania.
---
CALL US
---
---
REQUEST A FREE, NO OBLIGATION CONSULTATION
---
---
OUR SERVICES
---