Tree stump removal and stump grinding are common requests in the spring and summer months. With several heavy snowstorms, this past winter, many Delaware and Pennsylvania residents experienced trees falling in their yards. Some had to be removed immediately due to impacts with structures or due to blocking road or walkways, but others may have remained where they fell or may have been cut up by residents for firewood. Those trees have likely left unattractive hazards behind, namely, unsightly stumps. Now that spring is upon us, many homeowners are thinking about spending more time in their yards, and tree stump removal may be an important factor.
Why Do I Need Stump Removal?
As mentioned, tree stumps are unattractive, but beyond that, they can cause other issues. Tree stump removal can help you avoid: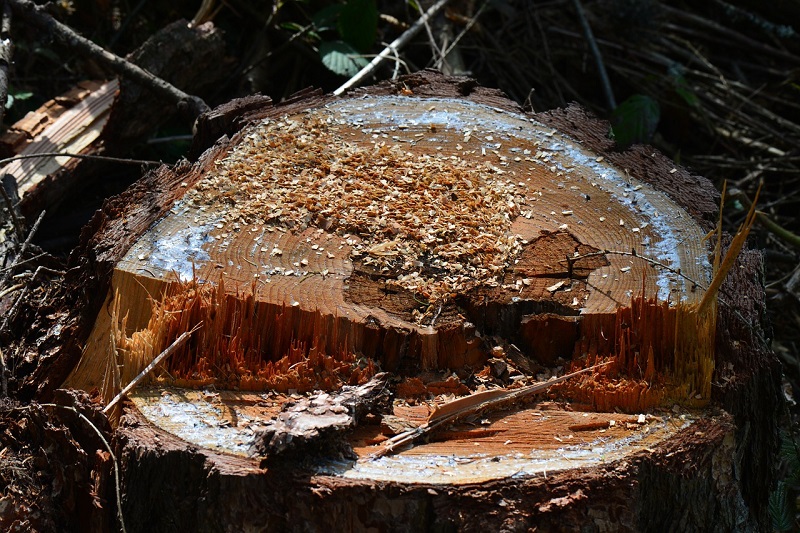 Pest Havens
Tree stumps are ideal places for insects and fungus. Some pests attracted to the rotting wood are termites, carpenter ants, beetles, and other wood-boring insects. These pests can cause problems if they branch out and target your home or other structures. Certain fungi that grow on tree stumps can be harmful to your plants, pets, and family.
Trip Hazards
Tree stumps, and especially tree roots, also pose tripping hazards. Stumps can hide behind clumps of overgrown grass or weedy areas. Children running around and playing may miss them and fall, which can lead to injuries. Individuals performing yard work may also miss the stumps and run into them with mowers or other equipment. Depending on the location of the stump, tripping incidents could also subject homeowners to liability cases. Stumps may also have roots that continue to grow underneath sidewalks or the foundation of your home. Roots can even lift a sidewalk, which can be dangerous for bikers or people just walking by.
Irate Neighbors
Tree stumps can cause problems for you and also your neighbors, unless you have a substantial property. Spring is when many homeowners list their homes for sale, and any reduction in curb appeal can impact them financially. The pests that may be harboring in your tree stump could also infest your neighbors' trees or homes.
What Happens to the Stump?
A couple of options exist for disposing of tree stumps. Smaller tree stumps can be dug out, leaving relatively small holes in the landscape. Some tree service providers, including Stein, will remove the debris from the site for the homeowners' convenience.
Larger trees may require heavy equipment for removal, or tree professionals may recommend stump grinding instead. Using a stump grinder, the professional arborists will grind the stump down to the roots so that no new growth takes place. In this case, the sawdust is often used to refill the hole so you can landscape over it.
Call Stein Tree Service for Timely and Professional Tree Stump Removal and Stump Grinding
Stein Tree Service has been providing excellent tree care for nearly 40 years. Our certified arborists and tree care specialists will evaluate your unique situation and recommend the best course of action so that other vegetation remains undisturbed. Contact us today for a free consultation regarding tree stump removal and stump grinding, trimming and pruning, pest infestation, and other tree care services.