How do you Choose the Right Certified Arborist in West Chester, PA?
By Stein Tree
A certified arborist in West Chester is the person you want on call for those big or dangerous tree jobs. Whether you need advice on keeping your tree healthy or need branch trimming, a certified arborist has the knowledge and experience to assist. You especially want this type of professional in situations where dangerous variables, such as electrical wires, heights, or nearby buildings, fences, or homes make working on and around your trees riskier.
Questions to Ask to Ensure that You Hire the Right Certified Arborist in West Chester PA
Of course, hiring an arborist or tree service comes with its own risks. You do not want to just hire the first name you see in the phone book or the closest 'business' on Google Maps. To ensure you are getting a tree care professional who truly knows how to keep your trees healthy, safely work on your property, and who will do so at a fair price, consider the following important questions to ask prospective arborists:
Does the tree service have up to date certificates of insurance and a recent copy of their work contract?
Never allow anyone who is uninsured to work on your property. Make sure your West Chester arborist has the right paperwork to ensure that they are covered for any injuries, accidents, or damages.
Does the arborist have a list of references and before/after pictures?
Happy customers are usually happy to be listed as references. Choose a certified West Chester arborist who can provide a list of recent customers and the work done for them.
How will the tree service company approach the job and what equipment will be used?
Do you want massive power equipment driven across your lawn, garden, and flowerbeds?
Ask prospective arborists about how they plan to approach a given job and whether the company has any policies should they damage something like a sprinkler head or prized rose bush. A quality certified arborist will plan ahead and offer the least intrusive method combined with a full clean up when the work is done.
Call Stein Tree Service for a Skilled Certified Arborist in West Chester PA and Surrounding Areas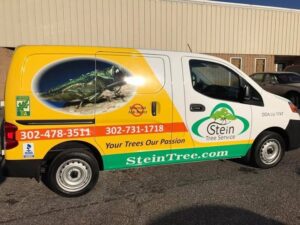 Stein Tree Service has been helping residents of Pennsylvania, Delaware and Maryland maintain healthy trees for over 33 years. We are the oldest independently owned tree care service in Delaware and we are passionate about tree care. For more information about our services or hiring a certified arborist in West Chester, contact us today.
---
CALL US
---
---
REQUEST A FREE, NO OBLIGATION CONSULTATION
---
---
FEATURED PROGRAMS
---
Stein Tree Earns Permit to Work in Spotted Lanternfly Quarantine Areas


Stein has a permit to work in spotted lanternfly quarantine areas in Pennsylvania and Delaware. Tree Service Companies have to be trained in proper moving and disposal of materials to avoid spread of the spotted lanternfly and Stein has completed the training courses. Learn more.
Emerald Ash Borer Inspection
In the spring, destructive emerald ash bore

r (EAB) adult beetles begin to emerge. These invasive pests can destroy your ash trees. Our specialists are certified to treat for EAB in Pennsylvania and Delaware. For a free consultation, contact us today.
---
CATEGORIES
---
---
OUR SERVICES
---