Stein Tree Earns Permit to Work in Spotted Lanternfly Quarantine Areas
By Stein Tree
Wilmington, Delaware–March 3, 2019–Stein Tree Service announces that they are permitted to work in all spotted lanternfly quarantine areas of Pennsylvania and Delaware.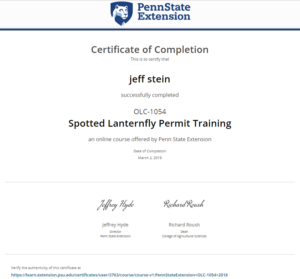 Stein, who has on staff certified arborists and other tree care specialists, already holds a certification to treat for the destructive emerald ash borer and now has completed the necessary course and earned an official permit to work in spotted lanternfly quarantine areas in both Pennsylvania and Delaware.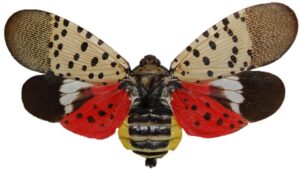 The spotted lanternfly, which was discovered in Pennsylvania in 2014 and in Delaware in 2017, is a destructive and invasive pest that is a threat to local agriculture by causing damage to hardwood trees, grapes, apples and more. The insect is attracted to trees such as the tree of heaven (Ailanthus alitissima), found in many local landscapes.
The quarantine places restrictions on moving of certain items, because the spotted lanternfly can hitchhike in them. Some examples are construction waste, grapevines, logs, stumps, and firewood. Tree care service companies must be trained in proper handling and removal of trees, stumps and other landscape materials in order to prevent the spread of the spotted lanternfly into other areas. To learn more about the spotted lanternfly visit Stein Tree Service's blog page.
Stein Tree Service performs commercial and residential tree care services in Pennsylvania, Delaware and Maryland, and particularly since the discovery of the emerald ash borer in their service areas, the company has been very conscious about its responsibilities in this regard. Both the spotted lanternfly and the emerald ash borer have caused a great deal of harm to trees in the United States, prompting government agencies to initiate the quarantines. If residents see the spotted lanternfly or the emerald ash borer, they should report the sightings to local agencies.
ABOUT STEIN TREE SERVICE
Stein Tree Service has been in business for over 33 years and is a trusted tree care service company in Pennsylvania and Delaware communities. The company's tree specialists are passionate about tree care, and conscientious about preserving the local landscape. For tree removal, tree trimming and pruning, pest infestation treatment and storm clean up, or information about tree care, residents may contact the company at 302-273-1583 or visit the website: https://www.steintree.com/.
---
CALL US
---
---
REQUEST A FREE, NO OBLIGATION CONSULTATION
---
---
FEATURED PROGRAMS
---
Stein Tree Earns Permit to Work in Spotted Lanternfly Quarantine Areas


Stein has a permit to work in spotted lanternfly quarantine areas in Pennsylvania and Delaware. Tree Service Companies have to be trained in proper moving and disposal of materials to avoid spread of the spotted lanternfly and Stein has completed the training courses. Learn more.
Emerald Ash Borer Inspection
In the spring, destructive emerald ash bore

r (EAB) adult beetles begin to emerge. These invasive pests can destroy your ash trees. Our specialists are certified to treat for EAB in Pennsylvania and Delaware. For a free consultation, contact us today.
---
CATEGORIES
---
---
OUR SERVICES
---