Tree Care in West Chester, PA: The Invasion of the Spotted Lanternfly
By Stein Tree

Photos courtesy of Pennsylvania Department of Agriculture.
The first presence of the spotted lanternfly, an insect originating in China, India and Vietnam, in the US was noted in 2014 in Berks County, PA. In November 2017, Philadelphia County was added to the existing quarantine. The quarantine was put into effect because the insects endanger local agriculture, specifically grapes, apples, hops, stone fruits and hardwoods.
Spotted Lanternfly Phases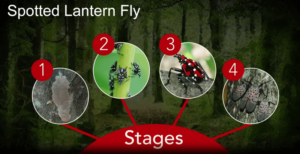 The spotted lanternfly has several phases before maturity. These are four nymph, or instar, phases beginning when they start to hatch in mid-May. In the first instar, nymphs are black with white spots and no wings, gradually developing red patches as they mature.
Adults' heads are black and they have gray wings with black spots on the front portion. The wing tips of the wings have black rectangular blocks with grey outlines. If the spotted lanternfly is seen flying, you will see hind wings that are red at the base and black at the tip with a white stripe dividing them. The red part of the wing has black spots and the abdomen is yellow with black stripes on the top and bottom.
The nymphs may commonly be seen in late April to mid-May. Adult insects, which prefer the Tree of Heaven (Ailanthus alitissima) as host, can be seen from July into the fall months. In the late fall months, they lay eggs, in masses of 30-50, on trees, vehicles or other outdoor surfaces.
What if You See a Spotted Lanternfly?
The spotted lanternfly is very destructive and spreads quickly. If you find any in an area in which they are already known to be present, you should kill them. If the area has not been identified as having lanternfly presence, you should report the presence, either taking a picture or sample to be confirmed with authorities. You can do so by contacting the Pennsylvania Department of Agriculture (PDA), either via emailing badbug@pa.gov or calling the Invasive Species Hotline at 1-866-253-7189.
How to Avoid or Treat for an Infestation
Regular inspection and tree care is helpful in early identification of lanternfly presence. In addition, the quarantines in place regulate the movement of the following items, so being careful of what you may be transporting into or out of quarantine areas, either on your person or belongings, can be helpful.
Firewood, brush, debris, bark, or yard waste
Logs, stumps, or any other tree parts
Remodeling, landscaping, or construction waste
Grapevines
Nursery stock
Crated materials
Outdoor household articles including RVs, lawn equipment, grills and furniture cover or tarps, tile, stone, deck boards, mobile fire pits, or any associated equipment and vehicles that are stored outdoors.
If you have ailanthus or tree of heaven in your yard, you may wish to remove them. Contact and systemic Insecticides can be used to treat trees that you elect to keep on your property. Your certified arborist or other tree care professional can advise you on the best course of treatment as well as help you identify lanternfly or other pests
Call Stein Tree for Experienced Tree Care in West Chester, PA
Stein Tree Service services areas in Pennsylvania, Delaware, and Maryland. For a free consultation or more information about our services, contact us at 302-478-3511. You can also learn more about spotted lanternfly at agriculture.pa.gov/spottedlanternflyalert.
---
CALL US
---
---
REQUEST A FREE, NO OBLIGATION CONSULTATION
---
---
FEATURED PROGRAMS
---
Stein Tree Earns Permit to Work in Spotted Lanternfly Quarantine Areas


Stein has a permit to work in spotted lanternfly quarantine areas in Pennsylvania and Delaware. Tree Service Companies have to be trained in proper moving and disposal of materials to avoid spread of the spotted lanternfly and Stein has completed the training courses. Learn more.
Emerald Ash Borer Inspection
In the spring, destructive emerald ash bore

r (EAB) adult beetles begin to emerge. These invasive pests can destroy your ash trees. Our specialists are certified to treat for EAB in Pennsylvania and Delaware. For a free consultation, contact us today.
---
CATEGORIES
---
---
OUR SERVICES
---