Exciting New Addition to Stein's Tree Care Equipment Inventory
By Stein Tree
At Stein, we are always working to improve our tree care techniques and processes. To that end, we recently purchased an advanced new mini lift that will allow us to more easily and safely perform tree pruning or tree removal.
The lift was designed for tree care, so while most mini lifts are designed for indoor use and use light duty mechanisms, our Arbor Pro is made with heavy duty components to withstand outdoor conditions.
Benefits of the New Arbor Pro Mini Lift
The new lift offers several benefits to our clients, as well as to our company.
Size
For clients, one of the most beneficial factors is that the compact size enables us to enter a 36 inch opening, so many gates will accommodate the lift without having to remove fence panels in the event we need to get into a back yard.
Maneuverability
The mini lift has great maneuverability and versatility. The lift has two booms that can each telescope in and out and the lift can also move up or down 90 degrees. These factors, along with a rotating basket allow a person to move around the tree more freely to access branches at different levels and angles. With other, less flexible equipment, the truck or equipment might have to be moved around to allow access. The compact lift allows less compaction and impact on surrounding plant life.
Speed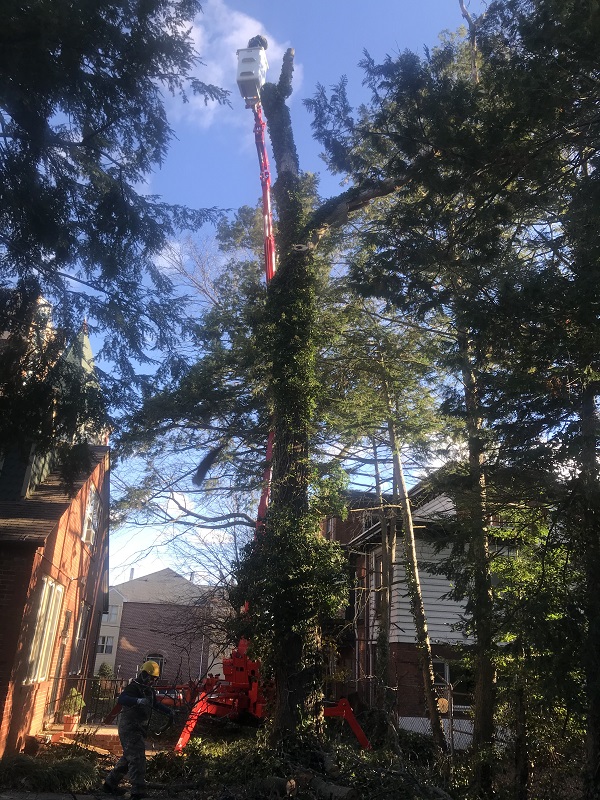 The advanced functions of the compact lift make tree care easier, and therefore faster. In addition to the increased maneuverability, the lift has another advantage. The person in the basket has the ability to operate the lift while inside. So tree care specialists can move wherever they need to be without having to communicate with someone below who is operating the basket. Quicker performance of our tasks can result in less disruption of client's activity.
Versatility
When the lift is used for a tree care task, climbing can be avoided. The specialist can use the lift to reach up to 83 feet, rather than climb the trees, especially useful when a tree is vulnerable. If the tree is weak, this feature offers more safety to our tree care provider, and the tree will have no trauma from the added weight and climbing impacts. In addition, the lift allows us to work 20 feet below the grade, so if we are working on trees that overhang your neighbor's property, we can avoid entering onto their property for tree removal or maintenance.
Call Stein for Professional State of the Art Tree Care Service
The lift may be more exciting to us than to our customers, but they certainly benefit as well. We are dedicated to providing excellent tree care to our Delaware and Pennsylvania businesses and residents. Having new and advanced equipment is part of that commitment. For a free consultation about your tree health or to schedule a service, contact us today!
---
CALL US
---
---
REQUEST A FREE, NO OBLIGATION CONSULTATION
---
---
FEATURED PROGRAMS
---
Stein Tree Earns Permit to Work in Spotted Lanternfly Quarantine Areas


Stein has a permit to work in spotted lanternfly quarantine areas in Pennsylvania and Delaware. Tree Service Companies have to be trained in proper moving and disposal of materials to avoid spread of the spotted lanternfly and Stein has completed the training courses. Learn more.
Emerald Ash Borer Inspection
In the spring, destructive emerald ash bore

r (EAB) adult beetles begin to emerge. These invasive pests can destroy your ash trees. Our specialists are certified to treat for EAB in Pennsylvania and Delaware. For a free consultation, contact us today.
---
CATEGORIES
---
---
OUR SERVICES
---