Pipeline Right of Way Clearing
By Stein Tree
Pipelines serve a crucial role for businesses and government agencies, both local and national, and the safety and integrity of such infrastructure is vital. Pipeline right of way clearing (ROW clearing) is an important service that helps keep the areas surrounding pipelines free of excessive vegetation. Removing overgrown brush or trees around a pipeline is a careful process that helps prevent any damage to the pipeline itself. Overgrown brush and trees can present a few risks to the pipeline and surrounding area, infrastructure and crew safety, accessibility, and monitoring.
Types of Pipelines
Pipeline right of way clearing involves removing excessive vegetation both above and below ground. Overgrown trees with branches hanging over a pipeline are the most visible signs of risk, but trees can cause damage to underground components of a pipeline, too. For example, the roots of a tree can be too close to an underground pipeline and can interfere with the operations.
Some of the types of liquid and natural gas pipelines arborists will work on to help maintain a clear right of way include the following:
Gathering lines: These lines collect and move products from their sources to storage or processing areas. The storage facilities must have cleared perimeters as well.
Transmission lines: These lines transport large quantities of natural gas or hazardous liquids over long distances and most are underground.
Distribution lines: Some distribution lines move gas to industrial customers and other smaller ones connect businesses and homes. These lines are typically located in easements along streets underground.
Because most pipelines are underground, arborists need to be keenly aware of potential issues unseen above ground, such as with roots as mentioned above.
Why Pipeline Right of Way Clearing is Important
Pipeline right of way clearing is important for numerous reasons. Safety is a major concern for pipeline infrastructure and workers, and overgrown vegetation can compromise that safety. A clear right of way makes the pipeline work site more accessible and allows workers to be more productive. And right of way clearing is important for monitoring the area for potential risks.
Safety
One of the most important reasons for right of way clearing is to keep the surrounding people and infrastructure safe. For example, weak or damaged branches (or an entire tree) can fall onto a pipeline and cause significant damage. Overgrown trees or brush prevent inspectors from finding damage or potential safety hazards. Trees and brush can cause damage to underground components of a pipeline, too, such as when roots damage pipeline surfaces. Pipeline right of way clearing helps ensure the safety of both the pipeline and workers.
Accessibility
Right of way clearing helps keep infrastructure clear from obstacles that may interfere with travel or productivity, and businesses who own pipelines are responsible for maintaining them. Dense trees and overgrown brush can block work crews and vehicles from getting to their pipelines or utilities, preventing them from doing their work. Safety inspectors or pipeline technicians need a clear right of way, too. If technicians need to repair a vital pipeline component, especially in an emergency situation, waiting for someone to clear a path wastes time and money. A clear right of way allows workers to easily access and work on the pipeline and surrounding infrastructure.
Monitoring
All underground gas pipelines in the United States are protected under the Homeland Security Agency. Pipeline companies use aircraft to fly over their pipelines each week to ensure that no tampering with the utilities is occurring. Pipeline companies can also use patrols to spot potential issues or problems in the infrastructure. A pipeline working area covered with dense vegetation and overgrown trees or brush makes monitoring difficult to impossible. Keeping the ROW clear ensures that the pipeline area can be easily monitored.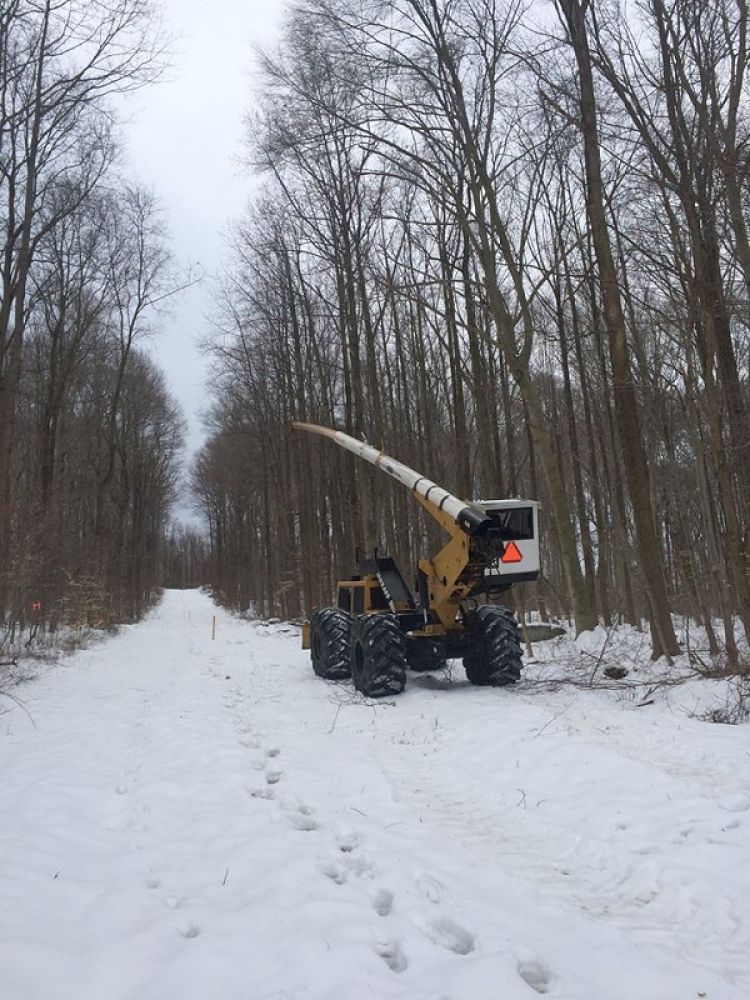 Choose Stein Tree for Pipeline Right of Way Clearing Services
Stein Tree Service offers many tree care services to businesses, municipalities and residential clients. Our right of way clearing services are comprehensive, and we use state of the art practices and equipment, such as our spider lift and lift trucks, to perform the work that our clients depend on. Licensed and insured in Delaware, Pennsylvania, and Maryland, our certified arborists and professional crews will maintain a safe environment for your commercial business while managing and maintaining your right of way clearing project. Contact Stein Tree Service at 302-478-3511 for answers to all your questions about pipeline right of way clearing services today.
REQUEST A FREE, NO OBLIGATION CONSULTATION