What is Plant Health Care (PHC) and Why Is PHC Important?
By Stein Tree
When an arborist is tasked with removing or trimming a tree, he needs to evaluate the health of the tree first. And he does this through a thorough assessment, followed by the creation of personalized Plant Health Care (PHC) programs. What is plant health care? Plant health care is both a proactive approach and a holistic approach to maintaining tree, shrub, bush, and general landscaping health. Certified arborists and plant health care specialists focus on preventive care to increase the plant's ability to thrive. But plant health care is about more than simply making sure your trees are healthy. Many factors go into caring for and maintaining plant health.
What Is Plant Health Care's Goal and What Does PHC Involve?
The primary goal of plant health care is to provide the proper growing environment for various plants. An arborist needs to have an in-depth understanding of a tree so that he can accurately assess and health issues and remedies. Knowledge of tree biology and how the tree interacts with environmental conditions is crucial to detecting any health problems. The arborist also needs good communication skills and must be able to work with the proprietor of the landscape.
In terms of the physical work of plant health care, arborists may do any of the following based on their assessment of the landscape:
Targeted management of pests, insects, and diseases
Soil and pH testing
Fertilizing and mulching
Trimming and pruning
An important note is that plant health care is a continual, ongoing process. Plants are living things, after all. So consistent monitoring, and especially early detection, are vital components to the plant health care process.
What Causes Plant Health Problems?
Now that we have the answer to, "What is plant health care?" we have to consider what causes plants to be unhealthy. While nature has plenty of self-regulating aspects to keep its elements healthy, the trees and plants can still be harmed in many different ways. The most obvious ways are insects, pests, and diseases, and especially trees and shrub varieties that were introduced rather than being native to the area. One of the major forces that affect plant health is people.
All of the traffic on your lawn, from both people and equipment, and even the building of your house, compacts the soil which restricts root growth and nutrient absorption, resulting in stressed soil. Buildings, roads, and sidewalks also act as underground barriers to root growth. We want our trees and shrubs to thrive and be healthy, and that means addressing these issues and finding solutions for our plants.
Why Plant Health Care Is Important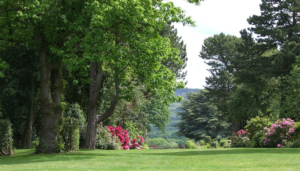 If you have wondered why plant health care is important, you now know that the practice can help keep your landscape healthy and beautiful. Healthy trees and shrubs bring value to your property and your lives, and we want to help you retain your cherished trees.
Plant health care allows us to detect any issues early and resolve them quickly, through our plans that provide long-term solutions to the many health risks our plants face.
Choose Stein Tree Service for Your Plant Health Care Services
Stein Tree Service hears questions like "What is plant health care?" and "How can I save my tree?" every day. The Stein Tree staff has over 35 years of knowledge and experience. Our long history of satisfied customers, from Wilmington to Philadelphia, represents our dedication to quality service. For a free plant health care consultation or more information on our plant health care programs, contact us at 302-478-3511 today!
---
CALL US
---
---
REQUEST A FREE, NO OBLIGATION CONSULTATION
---
---
FEATURED PROGRAMS
---
Stein Tree Earns Permit to Work in Spotted Lanternfly Quarantine Areas


Stein has a permit to work in spotted lanternfly quarantine areas in Pennsylvania and Delaware. Tree Service Companies have to be trained in proper moving and disposal of materials to avoid spread of the spotted lanternfly and Stein has completed the training courses. Learn more.
Emerald Ash Borer Inspection
In the spring, destructive emerald ash bore

r (EAB) adult beetles begin to emerge. These invasive pests can destroy your ash trees. Our specialists are certified to treat for EAB in Pennsylvania and Delaware. For a free consultation, contact us today.
---
CATEGORIES
---
---
OUR SERVICES
---