What is Integrated Pest Management (IPM)?
By Stein Tree
Every landscape and home face the problem of pests. Usually, the solution for most is to eliminate a pest problem when the issue is discovered. But this is a short-term solution that can lead to damaging an affected area and its surroundings without careful consideration. Stein certified arborists and plant health care management specialists emphasize and promote Integrated Pest Management, or IPM, for any pest-related issues. Integrated Pest Management (IPM) is a process that pest control specialists use to eliminate pests while minimizing any risk to people and the environment. This process can be used in any environment, too: urban, suburban, rural, agricultural, natural areas, and more.
The Goal of Integrated Pest Management (IPM)
The purpose of having an integrated pest management system is to focus on long-term prevention of any damage caused by pests. The specific plan is based on the ecosystem of the affected area and uses a combination of biological control, habitat manipulation, cultural control, and using resistant varieties of plants and/or crops. Rather than a single method of eliminating a pest infestation, integrated pest management (IPM) is a whole system of comprehensive pest management practices.
Reducing risks to both humans and the environment is a major goal of IPM practices. Preserving the sustainability of the local habitat and environment while managing pests is what separates IPM from other (often short term) pest control methods. Resolving the root cause of pests also provides economic benefits in the long-run.
What Are Pests?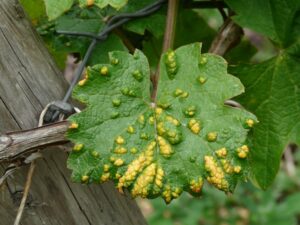 When an arborist is developing an integrated pest management plan for you, what constitutes pests is vital. Generally speaking, a pest is any organism that interferes with or damages our desirable plants and homes, as well as human and animal health. Some pests may carry diseases that can affect you or your plants, while others may just be annoying to deal with. Usually, people think of pests as insects such as termites or ticks, but even organisms as big as birds and rodents, and as small as weeds and bacteria, can be pests.
Every environment deals with unique pests, and plant health care specialists need to be aware of how the environment allows these pests to thrive. Knowing pest populations, life cycles, and more, is crucial to creating effective, sustainable IPM programs.
How Does Integrated Pest Management Work?
As we mentioned, IPM is about finding long-term solutions to pests, and that involves creating and modifying the environment to be unfavorable for those pests. Growing healthy crops, using disease-resistant plants, or sealing cracks in a building are all ways that prevent pests from thriving and can help control the issue.
Monitoring the environment, including identification of the pests and the damage caused is the first step in determining what level of action is necessary. Knowing about the pests and the conditions that allow them to thrive gives pest control specialists the information to create the best plan for your needs.
After the initial monitoring of the environment and the pests, the issue needs to be evaluated as either tolerable or a problem needing to be solved. A few weeds scattered throughout a garden may be a small issue that can be solved by simply pulling them out from the ground, while a large infestation of disease-carrying insects is a major problem.
IPM and other pest control methods should be used in conjunction with one another, as opposed to being used separately. Some of the methods involved in integrated pest management (IPM) include the following:
Biological control – Using natural enemies, such as predators, parasites, pathogens, and competitors, to control pests.
Cultural controls – Reducing pest establishment, reproduction, dispersal, and survival. An example of a cultural control would be changing irrigation practices because too much water can increase root disease and weeds.
Mechanical and physical controls – Killing pests directly, blocking pests out, or making the environment unsuitable for pests. Examples of mechanical or physical controls include traps for rodents or some type of barrier or screen to keep birds and/or insects out.
Chemical control – Using pesticides and other chemical-based solutions.
We all know about farmers using pesticides on their fields, and while pesticides are effective, some cause health and environmental concerns. Usually, pesticides are used only in combination with other methods, chosen carefully, and used conservatively. Examples of pesticide applications in IPM would be using a selective pesticide to only target organisms that are causing the issue, or spraying pesticides in selected areas rather than a whole field.
Call Stein Tree Service for Pest, Plant, and Other Tree Services
If you are having issues with pests and need integrated pest management (IPM) in areas such as Wilmington or Philadelphia, call Stein Tree Service. Our certified arborists have decades of experience, our equipment is state-of-the-art, and we have been dedicated to quality service for over 30 years. For a free consultation, contact us at 610-723-8056 today!
---
CALL US
---
---
REQUEST A FREE, NO OBLIGATION CONSULTATION
---
---
FEATURED PROGRAMS
---
Stein Tree Earns Permit to Work in Spotted Lanternfly Quarantine Areas


Stein has a permit to work in spotted lanternfly quarantine areas in Pennsylvania and Delaware. Tree Service Companies have to be trained in proper moving and disposal of materials to avoid spread of the spotted lanternfly and Stein has completed the training courses. Learn more.
Emerald Ash Borer Inspection
In the spring, destructive emerald ash bore

r (EAB) adult beetles begin to emerge. These invasive pests can destroy your ash trees. Our specialists are certified to treat for EAB in Pennsylvania and Delaware. For a free consultation, contact us today.
---
CATEGORIES
---
---
OUR SERVICES
---