Stein Discusses Tree Care and Tree Cities
By Stein Tree
Trees provide numerous benefits, making them a vital part of a community. These benefits encourage us to properly maintain and even increase a city's trees. The Arbor Day Foundation, a conservation nonprofit and the largest nonprofit dedicated to tree planting and tree care, has a program just for this mission: Tree City USA.
What is Tree City USA?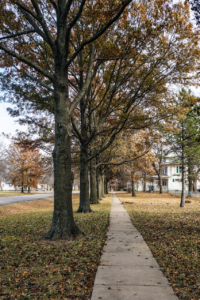 Tree City USA is a program started by the Arbor Day Foundation in 1976. The program gives communities the tools and support network they need to preserve, manage, and expand their publicly owned trees. Over 3,400 recognized communities and 143 million people live in or near a tree city. Below are some of our local cities that have qualified as Tree Cities.
Wilmington, DE
Newark, DE
West Chester, PA
Malvern, PA
Media, PA
What are the Benefits of Tree Care and Being a Tree City?
In addition to the beauty of trees, many of the benefits of a town or city becoming a tree city have to do with the natural impact of numerous healthy trees. Studies have shown several health benefits people get from living near parks and forests, such as improved immune systems, increased mood, reduced stress, and an improved ability to focus, even in children with attention deficit hyperactivity disorder (ADHD).
Plenty of economic benefits exist as well. Trees, and good landscaping in general, increase property values, with mature trees increasing values by up to 20 percent. Trees also act as natural air conditioners. More than just adding shade, when water evaporates from the leaves, the conversion to air vapor removes heat energy from the air. The U.S. Forest Services says "strategically placed trees save up to 56 percent on annual air-conditioning costs."
How to Make Your Community a Tree City
The Arbor Day Foundation outlines 4 standards that must be met in order for a community to become a registered tree city. The city must
Maintain a tree board or department
Have a community tree ordinance
Spend at least $2 per capita on urban forestry
Celebrate Arbor Day.
The Arbor Day Foundation also has several resources online that include checklists, worksheets, and applications, that must be submitted in order to qualify and begin the process.
Trees are more than a pleasing sight; they provide many tangible benefits to entire communities, both rural and urban. Whether you live in a tree city or just want to enjoy trees in your landscape, planting new native trees and learning about good tree care are great ideas.
Contact Stein Tree Service for Experienced Tree Care in Pennsylvania and Delaware
Stein Tree Service has been a trusted tree care service company for over 33 years. Our certified arborists and other tree specialists are conscientious about preserving the tree and plant health in Pennsylvania and Delaware landscapes. For tree removal, tree trimming and pruning, pest infestation treatment and storm clean up services, or information about tree care, contact us today or explore our website.
---
CALL US
---
---
REQUEST A FREE, NO OBLIGATION CONSULTATION
---
---
FEATURED PROGRAMS
---
Stein Tree Earns Permit to Work in Spotted Lanternfly Quarantine Areas


Stein has a permit to work in spotted lanternfly quarantine areas in Pennsylvania and Delaware. Tree Service Companies have to be trained in proper moving and disposal of materials to avoid spread of the spotted lanternfly and Stein has completed the training courses. Learn more.
Emerald Ash Borer Inspection
In the spring, destructive emerald ash bore

r (EAB) adult beetles begin to emerge. These invasive pests can destroy your ash trees. Our specialists are certified to treat for EAB in Pennsylvania and Delaware. For a free consultation, contact us today.
---
CATEGORIES
---
---
OUR SERVICES
---