Many homeowners have experience with shrub or tree trimming and pruning. Some even have experience with a chainsaw. However, tree care can be dangerous, even for professionals, which is why we recommend hiring well-trained, licensed and insured professionals to perform hazardous tree care tasks.
According to the Tree Care Industry Association (TCIA), which relies on media reports for this information, 153 tree care-related occupational incidents occurred in 2016. Ninety-two of these were fatal. Most of these injuries were caused by falls, being struck, or contact with electrical wires or current. These are tragic accidents, and if they occur even among trained professionals, they can occur among untrained residents as well.
Stein Tree Service ensures that our tree care professionals are trained in the proper safety procedures so that no accidents occur. We enforce those safety practices, which is why you will always see our professionals wearing hard hats for protection. We take safety seriously, both our staff –and yours. In the event that an accident should occur, we are fully licensed and insured, also for the protection of our staff and our clients. An unlicensed tree care worker who is injured on your property could be a financial liability for you if they are uninsured.
What Kinds of Tree Care Should Be Performed By a Professional Tree Care Specialist?
Anything that involves potentially falling limbs or any kind of climbing is best left to professionals. Below is a list of three hazardous activities that Stein provides for residential and commercial clients.
Shrub and Tree Trimming and Pruning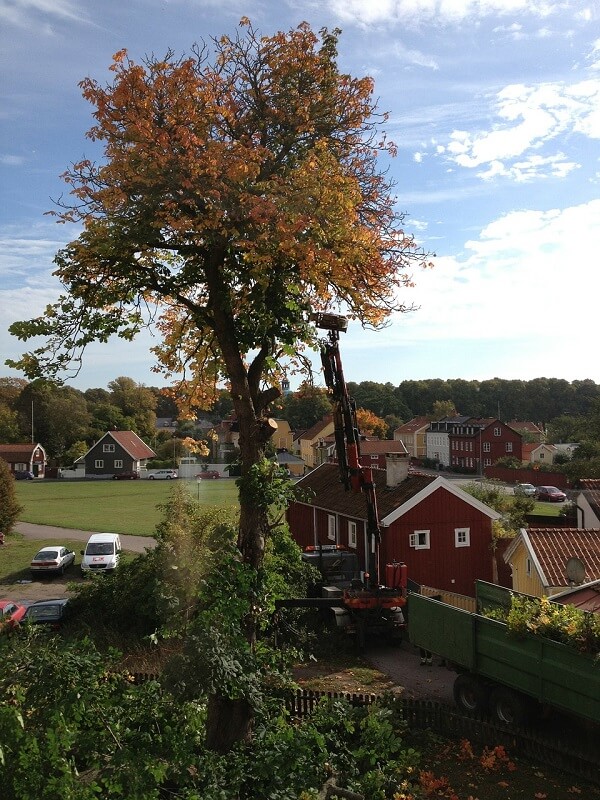 Professionals are recommended for these tasks for two main reasons.
1. Safety and Convenience
A tree care professional has (and is experienced in using) all the proper equipment for tree trimming and pruning, both mechanized and otherwise. Ladders, and even lift trucks are sometimes needed for tree trimming, depending on the size. Trained professionals will know how to handle trees that are near electrical lines or overhanging your home in order to avoid personal or property damage. They will also be practiced in climbing trees in a way that will cause no damage to them.
2. Knowledge
Arborists and other tree care professionals know how to trim a tree or shrub for its health. If you want a particular shape, or the tree needs to fit into a limited area, we can accommodate, but we will do so in a way that will enable the tree to continue to thrive. We also know how to avoid over pruning and if heavy pruning is necessary, we can make recommendations for a long-term plan to achieve the desired final result.
When a trained certified arborist is performing tree trimming and pruning, he/she may be able to identify problem areas in the tree, such as diseased, insect-infested, or weakened areas that may either be treatable, or may require tree removal to maintain safety.
Tree Inspection
Homeowners should inspect their trees regularly for changes, but with the emerald ash borer and spotted lantern-fly threats in our area, having a professional inspect your trees is a good idea. An insect infestation can cause irreparable damage to the trees in your landscape before you realize that anything is happening.
Inspections can also catch weakened branches that are at risk of falling onto your home or onto a family member, neighbor, or passing pedestrian. Being proactive with regular inspections and needed tree trimming can provide a measure of safety from liability in some cases.
Tree Removal
Tree removal is one of the most dangerous tree care activities, especially if the tree is a large one. Trained tree care professionals will know how to fell the tree without damaging your property. Also, if heavy equipment is required, they will help ensure that surrounding trees and plant life remain unharmed by soil compaction.
Stein Tree Service's Trained Professionals Will Safely Care for Your Trees
We all love our trees and want the best care for them. For the safety of family and property, homeowners can call Stein for regular and hazardous tree care activities. We offer residential or commercial shrub and tree trimming and pruning, tree removal, inspections, insect treatment (including emerald ash borer) in Delaware, Pennsylvania and Maryland. For a free consultation, contact Stein today!