Signs of Emerald Ash Borer
By Stein Tree
Fall has arrived, and we want to let homeowners know that fall and winter are great times to get trees inspected for pests or diseases. One major pest to look out for is the emerald ash borer (EAB): an invasive species that feeds on ash trees and has done immense damage to trees across the entire United States. Fall, winter, and early spring are the best times for detecting any signs of emerald ash borer, because fewer leaves are present to hide the pest. This season is also an ideal time for removing infected trees.
Signs of Emerald Ash Borer Infection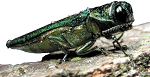 One of the main reasons that fall and winter are ideal for detecting the emerald ash borer's presence is that trees lose their leaves. The emerald ash borers burrow into the bark and lay their larvae inside the tree, making them difficult to spot on trees with a lot of leaves. EAB is difficult to spot because the beetles have a metallic green colored body, an effective camouflage during the spring and summer when trees have a lot of green leaves on them. The leaves can also hide other signs of emerald ash borer presence.
Other Signs of Emerald Ash Borer Infestation:
Distinct D-shaped holes in the bark
Bark splitting
Canopy thinning
Increased or unusually high woodpecker activity can be another sign, as woodpeckers feed on emerald ash borer.
Learn more about the Dangers of EAB
Removing Infected Trees in Fall & Winter
Removing trees infested with EAB can be carefully done anytime, but the ideal times to remove trees is during the fall and winter. From October to May, EAB is mostly inactive, with the larvae burrowed under the bark of a tree. The dormancy is a result of the beetles protecting themselves from the cold weather. Because the pest is mostly dormant during the winter, the chances of them spreading is reduced. Therefore, the ideal time to remove infested trees is between October and May when the risk of other ash trees becoming infested is the lowest.
Contact Stein Tree for Emerald Ash Borer Removal Services
If you are concerned about your trees' health and the risk of emerald ash borer infection, contact Stein Tree Service. Stein Tree is a professional licensed tree care business in Wilmington, Delaware. We provide pest removal and plant and tree care services for many communities around Pennsylvania, Delaware, and Maryland. Our certified arborists are experienced in the safest, most effective measures to prevent and remove pests from your landscape and maintain your trees' health. For more information on signs of emerald ash borer and how to keep your trees safe, contact Stein today.
---
CALL US
---
---
REQUEST A FREE, NO OBLIGATION CONSULTATION
---
---
FEATURED PROGRAMS
---
Stein Tree Earns Permit to Work in Spotted Lanternfly Quarantine Areas


Stein has a permit to work in spotted lanternfly quarantine areas in Pennsylvania and Delaware. Tree Service Companies have to be trained in proper moving and disposal of materials to avoid spread of the spotted lanternfly and Stein has completed the training courses. Learn more.
Emerald Ash Borer Inspection
In the spring, destructive emerald ash bore

r (EAB) adult beetles begin to emerge. These invasive pests can destroy your ash trees. Our specialists are certified to treat for EAB in Pennsylvania and Delaware. For a free consultation, contact us today.
---
CATEGORIES
---
---
OUR SERVICES
---