With bare-branched trees and frosty morning grass, you may think that winter is no time for tree care. However, many tree care services can and should be performed in the winter. Stein Tree Service's team has been busy recently with some, including tree trimming and tree removal.
Tree Removal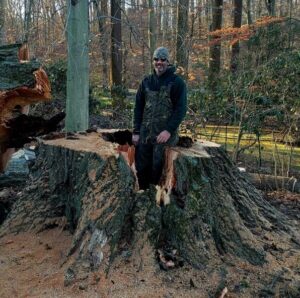 Recently we removed a large red oak tree with an enormous cavity in the center. The trunk measured 27 feet in circumference. These are just a few of the pictures along with a picture of the large chainsaw we needed to cut the trunk.
The tree had a large open wound and mushrooms, which made diagnosis easy. In some cases, the signs are more subtle, and we have to use a resistograph or other methods to determine the tree's health. In the winter, some signs are more visible and we are able to more easily make the determination.
Either way, with winter weather ahead, having this large tree removed before heavy snow could make it fall to potentially damage property or residents is a relief for the homeowners.
Right of Way Clearing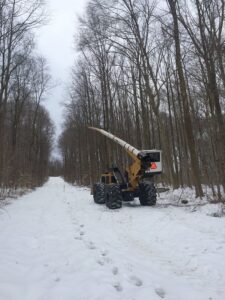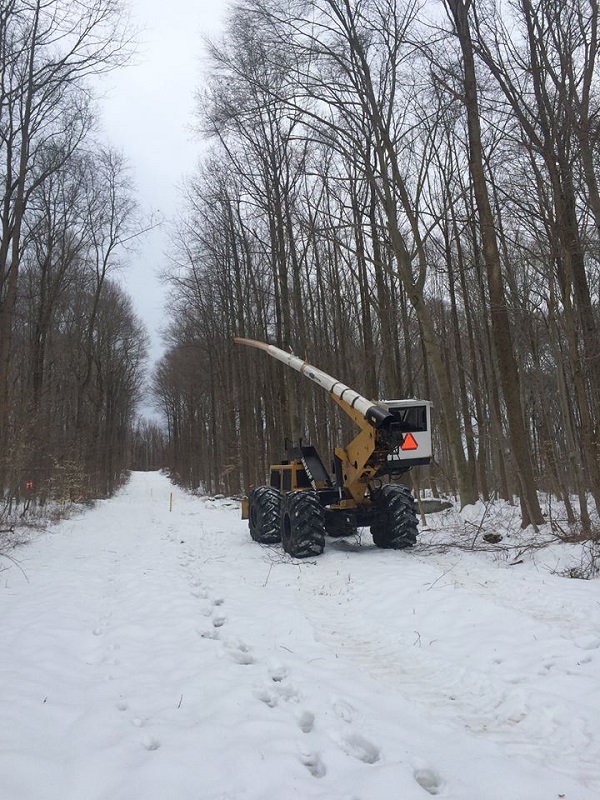 Roadways and access areas have to be kept clear for traffic or repair crews if power is disrupted. We have the equipment needed and have performed right of way clearing services for local municipalities, businesses, and even residents who have areas on their properties with trees that block access.
Tree Trimming and Pruning
Winter is a good time for trimming and pruning because the trees are dormant, and as mentioned, the bare branches reveal more clearly if branches are dead, misshapen, or weak. These types of branches can cause damage if they break off during winter storms. Unfortunately, this scenario happens frequently in our area, because heavy snow or ice accumulation weighs down the already struggling branches.
Our new mini lift, affectionately nicknamed "the Spider" makes these services quicker, safer and more efficient. View our video to see how we can trim and remove trees from tight areas with homes nearby.
Emergency Storm Clean Up
When trees or branches do fail in winter storms, Stein Tree is quick to respond. For these types of concerns, we are available 24/7 and can reach most homes to evaluate within two hours. Quick response and clean up is important to someone whose home has just been struck by a tree.
Call Stein Tree for Winter Tree Care Services
Stein Tree Service is fully insured and our specialists are passionate about excellent tree care. For any tree care concerns you have this winter, contact us to schedule a free consultation.