3 Benefits of Proactive Tree Maintenance
By Stein Tree
The best way to keep your trees healthy and beautiful is with proactive tree maintenance. Proactively maintaining and caring for your trees keeps them healthier for longer. More vigorous trees are also more beautiful trees and make your property more valuable. And performing routine maintenance helps reduce the number of potential issues and risks to your trees in the future.
Why Should You Practice Proactive Tree Maintenance
Below are three benefits of proactive tree care and maintenance.
1. Improved Tree Health
Proactive tree maintenance is an excellent way to maintain your tree's long-term health. For example, waiting to prune a diseased branch increases the chance of the disease spreading throughout the tree. Whereas carefully monitoring the tree and pruning at the earliest signs of illness halts the spreading and preserves the rest of the tree's health. The same goes for damaged branches and pest infestations such as emerald ash borer. By taking a proactive approach to tree care and maintenance, you can give your tree the best conditions to thrive and remain healthy.
See Our Tree & Plant Health Care Services
2. Enhanced Aesthetics & Property Value
In addition to your tree's health, proactive care also improves and maintains your trees' appearance. In the example of a diseased branch, waiting too long to prune the diseased branch could lead to an unsightly looking tree, or even one that is beyond saving and has to be removed. When your trees, plants, and landscape are healthy, your curb appeal and property value is higher. Preventive, proactive tree care ultimately makes your trees and landscape more valuable and appealing.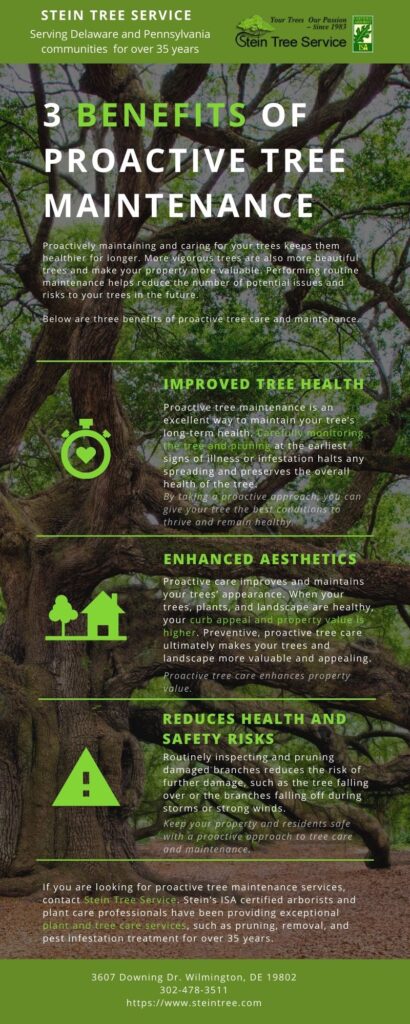 3. Reduces Health & Safety Risks
Proactive tree maintenance has the benefit of reducing potential health and safety. Routine check-ups and maintenance allow arborists to spot signs of damage or disease earlier, making more drastic practices like possibly removing the tree unnecessary. Routinely inspecting and pruning damaged branches reduces the risk of further damage, such as the tree falling over or the branches falling off during storms or strong winds. In addition, you will save money in the long-run by minimizing these risks, since the damage from these sorts of events is often costly and uncovered by homeowner insurance policies. Keep your property and residents safe with a proactive approach to tree care and maintenance.
Contact Stein for Tree Care Services
If you are looking for proactive tree maintenance services, contact Stein Tree Service. Stein's ISA certified arborists and plant care professionals have been providing exceptional plant and tree care services, such as pruning, removal, and pest infestation treatment for over 35 years. We have served many residential and business communities in Delaware and Philadelphia. For a free consultation or more information on our services, contact us today.
---
CALL US
---
---
REQUEST A FREE, NO OBLIGATION CONSULTATION
---
---
FEATURED PROGRAMS
---
Stein Tree Earns Permit to Work in Spotted Lanternfly Quarantine Areas


Stein has a permit to work in spotted lanternfly quarantine areas in Pennsylvania and Delaware. Tree Service Companies have to be trained in proper moving and disposal of materials to avoid spread of the spotted lanternfly and Stein has completed the training courses. Learn more.
Emerald Ash Borer Inspection
In the spring, destructive emerald ash bore

r (EAB) adult beetles begin to emerge. These invasive pests can destroy your ash trees. Our specialists are certified to treat for EAB in Pennsylvania and Delaware. For a free consultation, contact us today.
---
CATEGORIES
---
---
OUR SERVICES
---