Stein Notes That Pennsylvania is Targeting the Spotted Lanternfly
By Stein Tree

Recently we discussed that Stein Tree Service is certified to perform tree care services in all areas that have spotted lanternfly quarantines in effect. Now, you may have seen in the news that Pennsylvania has strengthened its efforts to control and eventually eliminate the invasive pest.
According to the Reading Eagle, 150 researchers and experts will work together to study the insect in 2019. These experts will come together from the Pennsylvania Department of Agriculture, the U.S. Department of Agriculture and Penn State.
The first sighting of the spotted lanternfly in Pennsylvania occurred in 2014 in District Township, and has spread into multiple PA counties as well as other states including Delaware. The spotted lanternfly is a nuisance, and is destructive to 70 types of plants and trees, many of which have agricultural value in Pennsylvania, such as the pine, maple, apple and the tree of heaven.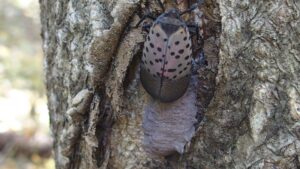 The spotted lanternfly feeds on a tree, particularly the sap, leaving greyish-black trails on the trunk and open wounds in the trunk. These wounds, and the sticky substance called honeydew left behind, invite other pests to come and cause further damage to the tree.
In the fall, spotted lanternfly adults lay eggs on the tree, and also on other surfaces nearby. If moved with the eggs or the insect, the wood or other objects can carry the spotted lanternfly into other areas.
Homeowners, business owners and contractors are urged to check their cars, wood and other objects before leaving an area with spotted lanternfly to avoid hitchhiking of the invasive creatures. On trees, they can be hard to spot because, though when their wings are spread they sport a colorful red area, they are grayish-brown with black spots otherwise, and can blend with the tree bark.
The latest collaboration is aimed at completely eradicating the spotted lanternfly, although officials admit that the effort will take some time. According to the Reading Eagle, Pennsylvania spent $3 million last year and this year plans to spend another $3 million, if a proposal by Governor Tom Wolf goes through.
If You See the Spotted Lanternfly
If you see this destructive pest, you should kill it and look for signs of infestation. If you find eggs, you should scrape them off and dispose of them in a double sealed bag. Calling a tree care specialist is a smart move too, because he/she will know what to look for. If you find a spotted lanternfly and are outside of a quarantine area, report the finding so that officials can investigate.
Stein Tree is Certified to Perform Tree Care in Spotted Lanternfly Quarantine Areas
Whether you are in a quarantine area or in an area where no spotted lanternfly has been seen, take precautions. In addition to insect infestation treatment of pests such as the lanternfly and the emerald ash borer, Stein Tree Service performs commercial and residential tree removal, tree trimming and pruning, and plant health care (PHC). Contact us for a free consultation in Pennsylvania or Delaware today!
---
CALL US
---
---
REQUEST A FREE, NO OBLIGATION CONSULTATION
---
---
FEATURED PROGRAMS
---
Stein Tree Earns Permit to Work in Spotted Lanternfly Quarantine Areas


Stein has a permit to work in spotted lanternfly quarantine areas in Pennsylvania and Delaware. Tree Service Companies have to be trained in proper moving and disposal of materials to avoid spread of the spotted lanternfly and Stein has completed the training courses. Learn more.
Emerald Ash Borer Inspection
In the spring, destructive emerald ash bore

r (EAB) adult beetles begin to emerge. These invasive pests can destroy your ash trees. Our specialists are certified to treat for EAB in Pennsylvania and Delaware. For a free consultation, contact us today.
---
CATEGORIES
---
---
OUR SERVICES
---