Stein Tree Discusses How to Safely Trim Tall Trees
By Stein Tree
Tall trees on your residential or business property add much value: shade, aesthetics, property value, and even reduced heating and cooling costs. But the size of these trees makes maintaining them more difficult and dangerous. Experienced arborists have the training and knowledge to keep you and your property safe. Here are the risks associated with tall tree trimming and pruning, and how to safely trim tall trees.
Why and How an Arborist Should Trim Tall Trees
We want to emphasize that the best method to trim tall trees is to contact a certified arborist. The safest methods and techniques of cutting tall trees involve specialized training and equipment that most people lack. Climbing up the tree and trimming branches should be left to certified and licensed professionals for the best results.
Climbing a Tall Tree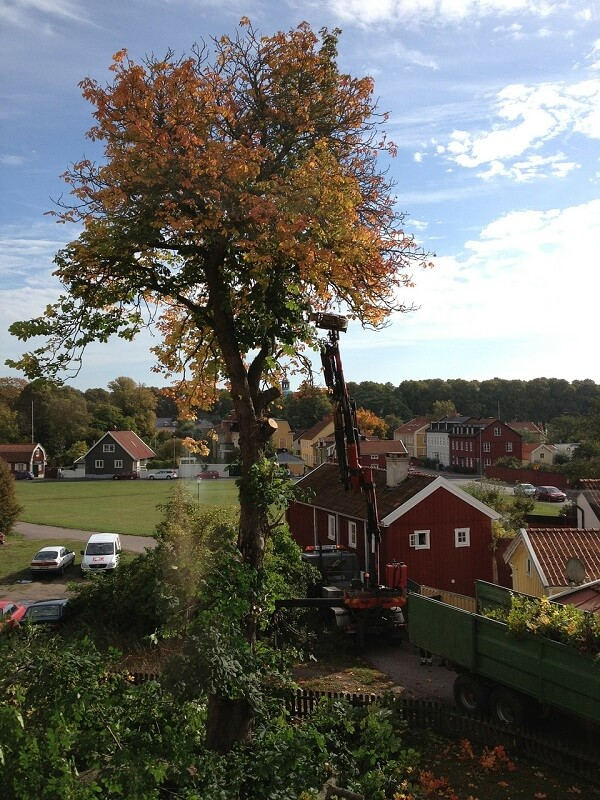 The first risk that comes with trimming tall trees is reaching the top. Pruning the branches of tall trees involves a much greater falling risk, and the chance of serious injury becomes more significant. The climbing method also needs to be safe, and any climbing equipment needs to be secure and stable. Experienced arborists know how to safely tether themselves to prevent a fall.
Equipment such as pruning shears or chainsaws are brought up to cut the branches. Careful cuts that ensure the safety of the trimmer, the people below, the property, and the health of a tree, need to be performed. The method arborists use to cut branches allows the tree to heal correctly and makes the actual cutting safer for the arborist. Numerous tree branches, larger branches, and other interfering objects such as power lines, create awkward and uncomfortable working angles.
Professional arborists will have access to specialized equipment and the proper training and certification to safely trim a tall tree. Stein Tree Service professionals use a spider lift or a lift truck to safely reach high branches.
A spider lift allows the arborist to work safely and access the tree from different angles. For close pruning, professionals use cordless top handle chainsaws, also called arborist chainsaws. These tools are lighter and easier to control than a standard chainsaw.
For trimming and shaping, tree care professionals often use powered long-handled or telescoping hedge trimmers. These tools, along with blowers, vehicles, lifts, and chippers, allow arborists to effectively and safely trim tall trees.
Call Stein for Quality and Reliable Tree Trimming Services
Stein Tree Service has been in business since 1983 and has a long history of crew, property, and tree safety. Our staff and state-of-the-art equipment are ready for immediate response. We have provided tree care services to thousands of customers throughout Delaware, Pennsylvania, and Maryland. If you need to trim tall trees or have other tree care needs, contact us today for a free consultation.
---
CALL US
---
---
REQUEST A FREE, NO OBLIGATION CONSULTATION
---
---
FEATURED PROGRAMS
---
Stein Tree Earns Permit to Work in Spotted Lanternfly Quarantine Areas


Stein has a permit to work in spotted lanternfly quarantine areas in Pennsylvania and Delaware. Tree Service Companies have to be trained in proper moving and disposal of materials to avoid spread of the spotted lanternfly and Stein has completed the training courses. Learn more.
Emerald Ash Borer Inspection
In the spring, destructive emerald ash bore

r (EAB) adult beetles begin to emerge. These invasive pests can destroy your ash trees. Our specialists are certified to treat for EAB in Pennsylvania and Delaware. For a free consultation, contact us today.
---
CATEGORIES
---
---
OUR SERVICES
---