Stein Urges Home and Business Owners To Avoid Tree Construction Damage
By Stein Tree
Planning on construction or exterior home renovation this year? Spring and early summer are prime times that residents and businesses plan major construction projects. Whether large or small, these types of projects can cause trauma to the surrounding landscape. If your property has trees that you hope to save, consult with a certified arborist for guidance on avoiding construction damage. Stein offers some basic information below.
3 Ways Construction Damages Surrounding Trees
Trees adapt as they grow to the type of climate and atmosphere that surround them. When something dramatically different occurs, they are vulnerable to trauma, which can result in weakness or even tree death.
Contact Injury
The most obvious cause of injury is what you can see: when equipment comes into contact with the tree. Cuts in the trunk, major broken branches, or even cutting of the roots can occur during construction. Wounds in the tree can lead to bacterial or fungal growth, insect infestation, or a failure in the tree's system of distributing nutrients. An arborist will help you determine the best methods of protecting trees, and may advise that some trees will most likely be unable to be preserved. Marking the trees that are most valuable and enforcing a safe perimeter may be enough to prevent this type of damage.
Soil Compaction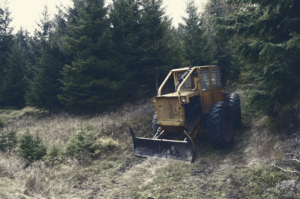 Soil compaction is one type of trauma that many fail to consider, but that is often deadly. Trees need a certain level of porosity in the soil in order for roots to receive the proper water, air and nutrients for health. When the level is changed dramatically, such as when heavy equipment is used to clear land or carry building supplies, or even an inordinate amount of foot traffic, the tree can suffer. Another way that soil can be compacted is by adding too much soil on top of the existing soil. We normally plant trees with the proper amount of root buried, and if that level is changed too much, the tree roots can be starved of air or nutrients.
Environmental Change
As we mentioned, trees become used to their surroundings, and dependent in some ways on them. For example, if you have a forested area, the included trees depend on each other for protection from the wind and other elements. Trees may grow tall and with a slimmer canopy because they have the support of other trees that are planted in close proximity. Without the protection of those trees, singular trees that have been chosen for preservation may be unable to survive later when storms come. Your certified arborist will be able to advise you of this possibility so that you can make the best plan for the success of your project and your landscape.
Follow Up Tree Care
Once construction has been completed, home or business owners often assume the risk has passed if their trees still look healthy, but trauma received during construction can show up months or even a year later. Have your arborist inspect trees after construction to look for issues that can cause trouble later. According to the Minnesota Department of Natural Resources, a tree can survive if 20% or less of the roots have been damaged. If 40% has been lost, the tree will most likely fail to survive. In such a case, the tree should be removed to prevent the danger of falling later on the structure or passersby.
Your arborist can look for other issues as well, and some may be treatable. Broken branches can be carefully pruned to promote quicker healing. In addition, he/she can recommend the best practices for tree care, as optimal watering and fertilizing needs may differ after construction.
Stein Tree Service Offers Experienced Tree Care Services in Pennsylvania and Delaware
Whether you need construction site tree management to mitigate construction damage, or you need services such as tree trimming and pruning or tree removal, Stein has the experience and equipment to handle the job. We offer free consultations, so contact us today for more information.
---
CALL US
---
---
REQUEST A FREE, NO OBLIGATION CONSULTATION
---
---
FEATURED PROGRAMS
---
Stein Tree Earns Permit to Work in Spotted Lanternfly Quarantine Areas


Stein has a permit to work in spotted lanternfly quarantine areas in Pennsylvania and Delaware. Tree Service Companies have to be trained in proper moving and disposal of materials to avoid spread of the spotted lanternfly and Stein has completed the training courses. Learn more.
Emerald Ash Borer Inspection
In the spring, destructive emerald ash bore

r (EAB) adult beetles begin to emerge. These invasive pests can destroy your ash trees. Our specialists are certified to treat for EAB in Pennsylvania and Delaware. For a free consultation, contact us today.
---
CATEGORIES
---
---
OUR SERVICES
---