Tree Trimming and Pruning in Media, PA by a Certified Arborist
Proper tree trimming and pruning in Media, PA is a vital part of keeping your trees healthy, beautiful and sound. A tree care professional will inspect the tree, removing any branches in danger of falling onto structures or people as well as those that may be keeping the tree from getting the nutrients and sunlight it needs. When tree trimming experts inspect a tree, they also look for defects that could cause trees to have future problems.
Tree Trimming and Pruning in Media, PA – Tree Risk Assessment Factors
Certified arborists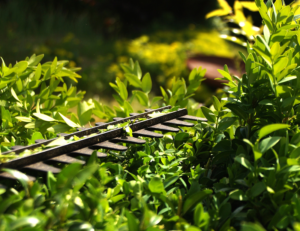 focus on several factors to determine the best action for the trimming, pruning, or even possible removal of trees on your property.
Risk of falling on a structure
Risk of hurting someone
Tree defects
Homeowner desires for aesthetics
Of course branches that pose some sort of risk for people, property or the tree itself are the first priority. Experienced tree care professionals also prune trees from a young age in order to train them to grow a particular way, whether to achieve a desired look for the homeowner, or to keep them from outgrowing their assigned space.
Tree Trimming and Pruning Experts Provide Options
Tree care professionals recommend tree trimming and pruning to keep your Media, PA trees healthy. However sometimes in the course of pruning, a professional may find that a tree is unsound with issues than are unable to be resolved. In such a case, tree removal may be necessary. In less extreme situations, your trees may be made safe against falling with options such as bracing or cabling, which your tree care expert can provide.
Call Stein Tree Service for Outstanding Tree Trimming and Pruning in Media, PA
Since 1983, Stein Tree Service has provided tree trimming and pruning services to Media residents and business owners. Our certified arborists and tree risk assessors have a passion for trees and take great pride in providing exceptional service. For more information or to schedule a free consultation, contact us today!