Advantages to Professional Tree Trimming and Pruning in New Castle, DE
Blooming trees add beauty to any landscape. To maintain healthy trees, be sure to schedule regular tree trimming and pruning for your New Castle, DE property. Trimming your trees at the right time will promote optimal blooms each year.
When Should Tree Trimming and Pruning be Performed?
In general, the best time to trim or prune your trees is from late fall to early spring. However, some trees bloom on the previous year's growth and some bloom on the current year's growth, so the right time may be different for various trees in your landscape. A certified arborist will know the best time to trim your particular tree species.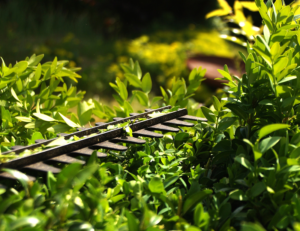 The reason tree trimming and pruning of your New Castle, DE trees can be best accomplished in the fall and winter is because trees are dormant. In the dormant stage, tree growth is stopped. Pruning in late summer can encourage late growth that lacks the hardiness to survive the harsh winter. Pruning after this critical time could limit the tree's flowering potential for the year.
Winter's bare branches enable tree care specialists to see the shape of the tree, which allows easier selection of branches for removal and easier access to them. Potential problems, such as insect infestation or disease, will be more apparent as well.
Do you Need a Professional for your Tree Care?
Hiring a professional tree care service company has several advantages over doing your own work. Some of these are:
Professionals will have the necessary equipment for all types of tree trimming and pruning, including tall ladders (tree climbing spikes damage trees), saws, various shears, and trucks to haul away debris if needed.
Tree care professionals are aware and trained in safe practices and know how to remove large branches without damaging the rest of the tree. Their experience allows the work to be done quickly and safely, without risk of injury to the homeowner or damage to the surrounding property.
Tree care professionals can spot potential problems before they cause the death of the tree and/or major expenses for the homeowner.
Call Stein Tree Services for Skilled Tree Trimming and Pruning in New Castle, DE
Trust a professional for your tree trimming and pruning needs in New Castle, DE. Our tree care specialists are licensed and insured for your protection and ours. Stein Tree Service has been providing tree services to residents and business owners in Delaware, Pennsylvania, and Maryland for over three decades, and we are committed to exceptional service. Contact us today for information or a free consultation!