Why Do You Need Tree Trimming and Pruning in Pike Creek?
Tree trimming and pruning in Pike Creek, DE, is essential to maintain the health and appearance of your trees and yard. Your landscape can benefit from professional tree trimming and pruning in numerous ways. From tree health to appearance to safety, you will need a certified, quality tree care service to help keep your yard in top condition. Here are some of the reasons you should get tree trimming and pruning services for your Pike Creek landscape.
3 Reasons for Tree Trimming and Pruning Services
Trimming and pruning trees helps improve the health and condition of your trees, enhances the appearance, and makes your lawn safer for you and anyone on your property.
Health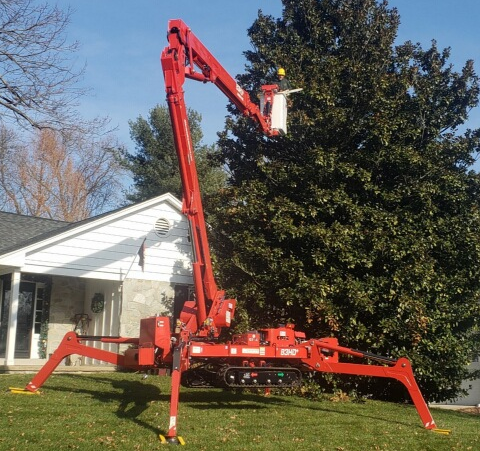 One of the main reasons for trimming and pruning trees is their health. Caring for a tree's health is vital to maintaining its shape and appearance, and many health issues that trees can have can be mitigated or resolved with proper pruning and trimming before they get to a point that a homeowner has to remove trees. For example, diseased or dead branches should be removed to prevent the disease from spreading throughout the tree and allow a tree to develop stronger, healthier branches. In addition, plenty of pests and fungal spores can cause disease, and different pests and diseases are more prominent during certain times of the year. For some trees, fungal spores are more plentiful during fall, so pruning those trees during the wrong time of year can leave them vulnerable to infection.
An arborist will be able to identify any health issues in a tree and know the ideal time to trim or prune to preserve your tree's health as much as possible. If certain tree pests or diseases are left alone, they could spread to other trees in your yard. So by opting for professional tree trimming and pruning in Pike Creek, DE, you can protect your valuable trees and shrubs.
Appearance
Homeowners in Pike Creek, DE, want their trees to look beautiful and strong, and sometimes, trimming and pruning are necessary to ensure that result. One of the ways trimming and pruning can improve a tree's appearance is through structural pruning. Some issues can occur as a tree is growing that can weaken the tree's structure, which affects the overall appearance, such as a branch being too heavy. Having specific limbs of a tree trimmed or pruned makes the tree's structural integrity stronger and the tree will look better with natural proportions. Pruning also helps remove unsightly waterspouts that can detract from the desired appearance.
Safety
Tree safety is also a significant concern for homeowners in Pike Creek, DE, and with tree pruning and trimming services, your trees can be made safer for you. Potential hazards that trees can present in residential areas include the following:
Dead or weak branches that can fall off
Large trees that can interfere with power lines
Limbs or branches hanging over houses or cars
In these instances, storms or strong winds can cause trees to sway and knock into structures, or branches to fall off and hit whatever is below. Hazards such as those should be resolved as soon as possible with certified tree care and trimming professionals.
Call Stein Tree Service for Professional Tree Trimming and Pruning in Pike Creek, DE
If you want to ensure that your trees are trimmed and appropriately pruned for long life, you need to work with a professional tree care company whose tree experts have a passion for trees. Stein Tree Service's tree care specialists have provided tree services in Pike Creek and nearby Wilmington, DE, including tree removal service, stump removal, trimming and emergency tree services, for nearly 40 years. Contact us today for more information regarding tree trimming and pruning in Pike Creek, DE, or to request a free consultation!