Avoid Spreading of Emerald Ash Borer and The Lone Star Tick When Camping This Summer
By Stein Tree
Wilmington, Delaware – July 2, 2018 – If you love camping, be careful about nature's tiniest pests this year. Stein Tree advises care specifically with regard to the emerald ash borer (EAB) and the Lone Star Tick. One is a destructive pest whose spread needs to be controlled, and the other threatens physical harm to humans.
Emerald Ash Borer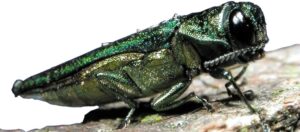 First, be aware that improper handling of firewood could cause the spread of invasive pests, such as the emerald ash borer (EAB). Stein Tree Service warns that the emerald ash borer is dangerous to ash and olive trees, and failure to follow handling guidelines could spread the insect to the camping area you visit, or to your home trees if you transport wood from the site.
If you plan to have a campfire, and campfires are allowed at your site, purchase wood at the campground. This practice is recommended generally anyway, to avoid introducing non-native insects to a site. However, the emerald ash borer is particularly harmful and destructive.
The emerald ash borer, was found in Delaware for the first time in August 2016. Emerald ash borer adult beetles lay eggs in summer,and begin hatching as larvae in the spring.
Some emerald ash borer signs are:
Thinning of the tree crown
Splitting Bark
Excessive Sprouting Around Base of Tree
Lingering Woodpeckers
S-Shaped Patterns in Trunk
D-Shaped Exit Holes
Delaware State Parks mandate that campers refrain from bringing out of state wood into Delaware. Please follow all guidelines to protect Delaware's trees.
Lone Star Tick
Campers and hikers are urged to be vigilant about checking for ticks this year. The Lone Star tick, also responsible for Rocky Mountain Spotted Fever, has also been discovered to cause another health issue: alpha-gal allergy, or allergy to red meat and dairy.
The allergy can cause dangerous, even life-threatening reactions within 6 hours of when the afflicted person ingests red meat (including pork) or sometimes dairy products. Dr. Scott Commins, one of the first doctors to identify the allergy associated with the Lone Star tick, estimates that over 5000 cases exist in the U.S. Fortunately, some patients do outgrow the allergy over time, but the best course of action is to be careful and check for ticks after outdoor activities. After spending time in grassy areas, check your shoes, clothing hair and body for ticks.
The Lone Star tick, which is being found further and further north, is a threat to campers themselves. The emerald ash borer is a threat to trees and therefore the economy. Stein Tree Service advises Delaware residents to enjoy the summer weather, while being aware of surroundings and rules when camping or spending time outdoors.
About Stein Tree Service
Stein Tree Service is the oldest independently owned tree care service in Delaware. Their Certified Arborists and other tree care professionals are dedicated to ensuring residential and commercial tree health. For more information about available services or the emerald ash borer threat in Delaware, contact Stein Tree Service at 302-273-1583 or visit their website directly at www.steintree.com.
---
CALL US
---
---
REQUEST A FREE, NO OBLIGATION CONSULTATION
---
---
FEATURED PROGRAMS
---
Stein Tree Earns Permit to Work in Spotted Lanternfly Quarantine Areas


Stein has a permit to work in spotted lanternfly quarantine areas in Pennsylvania and Delaware. Tree Service Companies have to be trained in proper moving and disposal of materials to avoid spread of the spotted lanternfly and Stein has completed the training courses. Learn more.
Emerald Ash Borer Inspection
In the spring, destructive emerald ash bore

r (EAB) adult beetles begin to emerge. These invasive pests can destroy your ash trees. Our specialists are certified to treat for EAB in Pennsylvania and Delaware. For a free consultation, contact us today.
---
CATEGORIES
---
---
OUR SERVICES
---