Stein Tree Discusses What To Do if a Neighbor's Tree Care is a Problem
By Stein Tree

What can you do if your neighbor's trees are encroaching on your property? We have seen cases where scenic views are blocked by neighbors' trees, and also where large trees overhanging a homeowner's property or fence can threaten damage to property or even to people. As tree care specialists, we have a little insight on situations like these.
In Delaware and some nearby states homeowners have the right to prune encroaching limbs and roots to the property line AS LONG AS THE TREE IS NOT HARMED in the process. Harm only means, in this case, the physical health of the tree rather than the aesthetics. If the situation ever came down to a court case the landowner would have to prove harm from the neighboring tree. Trees blocking a view is a totally different set of circumstances.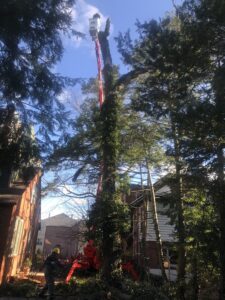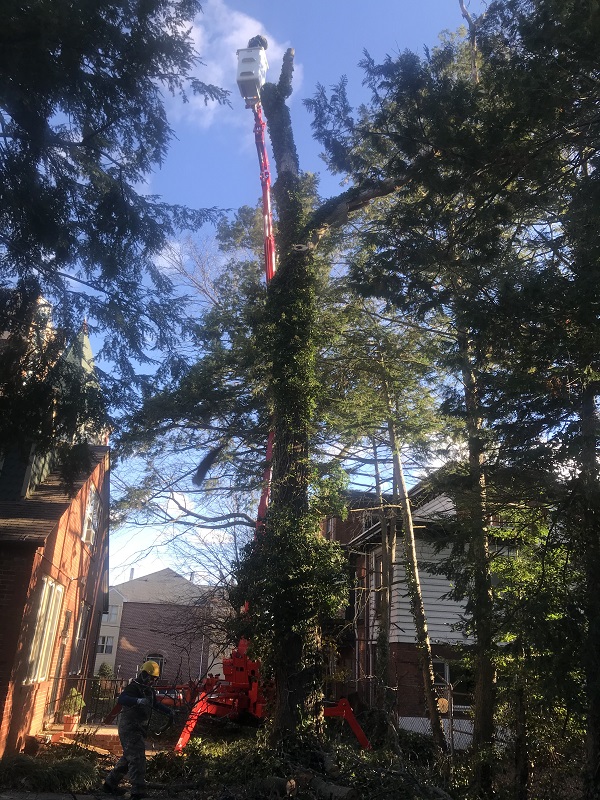 In a book called Arboriculture and the Law by Victor Merullo and Michael Valentine, cases are cited that back up this right by the courts. The tricky part in some cases where the tree owner refuses to allow pruning, is getting to the branches without climbing the tree. As a tree care service company, we like to have both parties on board if we can. Otherwise, we often have to use the bucket truck, which in some cases is tough due to the accessible area. However, we now have our spider lift which can give us access to the trees in tight areas.
As certified arborists, our job is to prune the tree in such a way that provides relief for our customer without harming the tree. Sometimes we need to compromise with the customer about how much we can take off without hurting the tree in the process.
Be a Good Neighbor with Regular Tree Care
Taking care of your trees helps with more than just aesthetics. The homeowners association in some communities will require that trees be trimmed back from the sidewalk, or that they be kept to a certain size. Even if no official rules exist, however, keeping your trees in shape is worth your effort. In the event of storms, if your tree has weak branches they may break and cause damage to your neighbor's property, or even to a person.
No one wants any kind of harm to take place, but in some cases, you could even be held financially liable for damages. Stein urges regular trimming, pruning and inspection to ensure that problems with trees are caught and addressed before this kind of issue takes place. As an added benefit, in some cases, records of regular tree care have enabled a homeowner or institution to prove that due diligence had been observed, and allowed them to be absolved of fault.
Stein Tree Service Provides Skilled Tree Care to Pennsylvania and Delaware Residents
Stein has been a trusted tree care service provider in Pennsylvania, Delaware and Maryland for over 30 years. Trees are our business and we are passionate about proper care. We perform tree removal, tree trimming and pruning, stump grinding, and insect treatment, such as for emerald ash borer. We are certified to perform tree care in all areas that are under spotted lanternfly quarantine as well. For information or to schedule a free consultation, contact us today.
---
CALL US
---
---
REQUEST A FREE, NO OBLIGATION CONSULTATION
---
---
FEATURED PROGRAMS
---
Stein Tree Earns Permit to Work in Spotted Lanternfly Quarantine Areas


Stein has a permit to work in spotted lanternfly quarantine areas in Pennsylvania and Delaware. Tree Service Companies have to be trained in proper moving and disposal of materials to avoid spread of the spotted lanternfly and Stein has completed the training courses. Learn more.
Emerald Ash Borer Inspection
In the spring, destructive emerald ash bore

r (EAB) adult beetles begin to emerge. These invasive pests can destroy your ash trees. Our specialists are certified to treat for EAB in Pennsylvania and Delaware. For a free consultation, contact us today.
---
CATEGORIES
---
---
OUR SERVICES
---