Wilmington, Delaware – April 28, 2017 – If you live in Wilmington, DE, your ash trees could be at risk from the devastating effects of the Emerald Ash Borer (EAB). These wood-boring beetles have made their way across the United States destroying millions of ash trees along the way.
The emerald ash borer, first discovered in the United States in 2002, was found in Delaware for the first time in August 2016. Emerald ash borer adults lay eggs in summer, and begin hatching as larvae in the spring. This life cycle indicates that your area ash trees could be in danger. Stein Tree Service recommends having your trees inspected to determine if any EAB activity is present.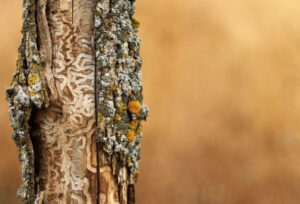 Wilmington, DE residents can help prevent the spread of the EAB and improve plant health if the infestation is caught early. One of the biggest Emerald Ash Borer early warning signs is a thinning in the crown of the tree. Other signs to look for include:
Splitting Bark
Excessive Sprouting Around Base of Tree
Lingering Woodpeckers
S-Shaped Patterns in Trunk
D-Shaped Exit Holes
With the help of a Certified Arborist, you may be able to prevent the spread of these invasive beetles and their damaging effects, however, if untreated, ash trees which have been infested with EAB can be damaged beyond repair within two years. Specialized tree care services can help you decide if you could benefit from EAB treatments or if tree removal could be needed.
Emerald Ash Borer prevention is key to controlling their spread. Spring tree care should include EAB inspection as a preventive measure. Stein Tree Service is trained to recognize the signs of emerald ash borer and is licensed to treat EAB in both Delaware and Pennsylvania.
About Stein Tree Service
Stein Tree Service is the oldest independently owned tree care service in Delaware. Their Certified Arborists and other tree care professionals are passionate about tree and plant health. For more information about available services or emerald ash borer presence in Wilmington, DE, contact Stein Tree Service at or visit their website directly at www.steintree.com.