Stein Recognizes Emerald Ash Borer Awareness Week, May 20-26, 2020
By Stein Tree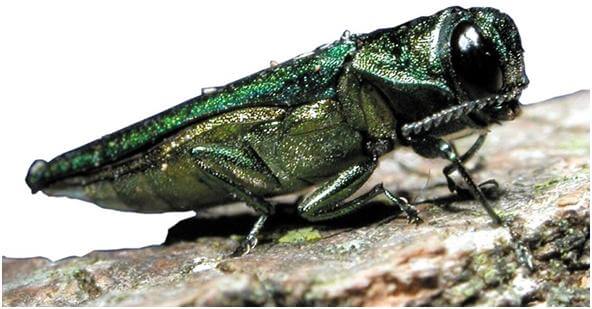 The Emerald Ash Borer (EAB) has been a significant problem in Pennsylvania, Delaware, and all across North America for years, and the pest will soon be emerging from its winter slumber. Emerald Ash Borer Awareness Week, which will take place from May 20 to 26, 2020, is part of a more significant effort to inform residents and homeowners of the threat, how to spot signs of an EAB infestation, and what action to take.
The emerald ash borer is a metallic-green beetle that feeds on ash trees and has been an invasive species in the U.S. since 2002. Ash tree populations across many states have been destroyed. We recognize that many people are focused on other things due to COVID-19, but residents should continue to be diligent about tree care and health to avoid losing valuable trees.
How to Help During Emerald Ash Borer Awareness Week
Here are some of the actions you can take to help prevent the spread of emerald ash borer and protect your trees during Emerald Ash Borer Awareness Week.
Look For Signs of EAB Infestation
Due to the damage that these beetles can cause, we encourage homeowners to look for signs of possible EAB infestation. In the early stages, you may see a thinning of leaves at the top of a tree. At later stages, the tree bark begins splitting, and sprouts (epicormic shoots) may start coming from the tree base. Substantial woodpecker activity on the tree is also a sign, as woodpeckers feed on EAB larvae. Other symptoms of emerald ash borer activity include:
Yellowing of leaves
D-shaped exit holes
S-shaped galleries under the bark
Avoid Moving Firewood
An important reason why EAB is such a massive problem is that the beetles can easily transport from one area to another. One way that emerald ash borer moves is on firewood. As a result, many states regulate the movement of firewood to prevent the spread of EAB. The solution here is to buy local firewood, buy heat-treated certified firewood, or gather firewood on site when permitted.
Help Spread Awareness
Taking action during Emerald Ash Borer Awareness Week, or anytime, helps preserve ash trees. When more homeowners and residents are aware of the threat and the signs of EAB, and what to do if activity is discovered, the chances for successfully treating an EAB infestation are better. If you spot any signs of emerald ash borer presence, report your findings and any questions about treatment of emerald ash borer to a certified arborist.
Call Stein for Certified Professional Emerald Ash Borer Inspection and Treatment
After identifying the signs and symptoms of emerald ash borer damage, the next step is to contact a professional, certified arborist. Stein Tree Service knows how to protect ash trees from emerald ash borer damage. Our EAB treatment certified arborists are certified to treat for EAB in Delaware and Pennsylvania, and are considered an essential business. We use the safest preventive methods and treatments to save your trees when possible. For more information on Emerald Ash Borer Awareness Week or a free consultation, contact Stein Tree Service.
---
CALL US
---
---
REQUEST A FREE, NO OBLIGATION CONSULTATION
---
---
FEATURED PROGRAMS
---
Stein Tree Earns Permit to Work in Spotted Lanternfly Quarantine Areas


Stein has a permit to work in spotted lanternfly quarantine areas in Pennsylvania and Delaware. Tree Service Companies have to be trained in proper moving and disposal of materials to avoid spread of the spotted lanternfly and Stein has completed the training courses. Learn more.
Emerald Ash Borer Inspection
In the spring, destructive emerald ash bore

r (EAB) adult beetles begin to emerge. These invasive pests can destroy your ash trees. Our specialists are certified to treat for EAB in Pennsylvania and Delaware. For a free consultation, contact us today.
---
CATEGORIES
---
---
OUR SERVICES
---