Treating for spotted lanternfly has become a more significant concern among homeowners as the invasive pest continues to spread and be a nuisance in Delaware and Pennsylvania. Controlling the spotted lanternfly population can be done by knowing how to identify the pest and preventing further spread. Homeowners can take preventive measures, such as purchasing firewood locally and scraping off egg masses on their property, as well as ensuring that none of the insects are hitching a ride on their vehicles when they travel. Here are a few tips on how to identify and treat for spotted lanternfly on your property.
View Our Tree Care Services for Homeowners
Identifying Spotted Lanternfly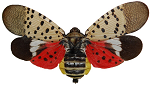 Treating for spotted lanternfly requires identifying their presence. Regarding the insects themselves, spotted lanternfly are small planthoppers with black heads, gray-brown forewings, and black spots on their forewings. The adults also have red hindwings underneath their forewings. Spotted lanternfly can also be detected and identified in their other life stages:
Early nymphs are tiny (⅛ to ½ inch) and can be challenging to find due to their size. The nymphs are all black with white spots.
Late nymphs are around ½ inch long, and have red bodies with black stripes and white dots.
Adult spotted lanternfly is the easiest to identify, thanks to their bigger size and distinct body coloration.
Spotted lanternfly will typically lay eggs on trees in the fall, although any hard surface (decks, rocks, houses) can be a potential spot for laying eggs. Egg masses are usually around 1 to 1½ inches long and make items appear to be covered in mud. These egg masses can also typically be found in the late fall.
Treating for Spotted Lanternfly
If you see spotted lanternfly on or around your property or trees, the best solution is to contact a professional, certified arborist. An arborist can closely examine the situation and determine the best treatment options for your trees. Also, homeowners can do a couple of things to help keep their trees safe from the spotted lanternfly's dangers.
Prevent Transporting Spotted Lanternfly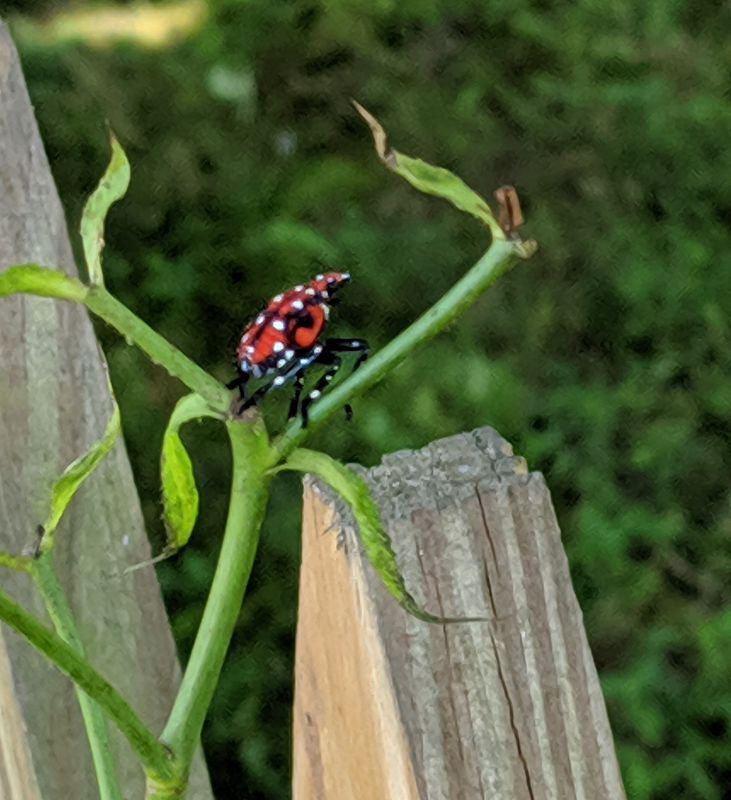 One of the significant reasons spotted lanternfly has become such a big problem is how easily the pest can move from one region to another, often through human activity. If you plan on going camping soon or transporting firewood, keep your firewood at home and purchase firewood locally instead. Hopping on firewood and moving from county to county is one of the primary reasons spotted lanternfly has been able to spread so quickly. Be sure to check your wheel wells and under your car for any egg masses or insects, too. Parking away from infected trees, keeping items away from those trees, and rolling your windows up when you are parked are effective ways to prevent spreading the pest.
Scrape Egg asses from Trees
If you see any spotted lanternfly around your property, check your trees, deck, car, and any outdoor surface on your property for any of their egg masses. After finding one, scrape off the egg mass with plastic cards or a putty knife. Make sure to scrape the egg mass into a bag or container filled with rubbing alcohol or hand sanitizer. Some eggs may be unreachable, resting at the tops of trees or well-hidden.
Tree Traps
Another effective means of treating for spotted lanternfly, particularly nymphs, is to use bands or tree traps to catch them. Sticky bands around trees where spotted lanternflies feed (such as the Tree of Heaven (Ailanthus altissima)) can catch nymphs. To prevent other animals or insects from being caught on the traps, only apply the tape if you know you have an infestation, reduce the band's surface area by cutting, and use a wire or mesh around the band.
Call a Professional, Certified Arborist
Some of the other tactics for controlling spotted lanternfly involve insecticide or pesticides. You should use these options with caution due to the effect chemical controls may have on the rest of your plants and local ecosystem. If you want the best results for getting rid of spotted lanternfly, contacting a certified arborist who will inspect your property and advise you on the solution is ideal.
Contact Stein Tree for Spotted Lanternfly Treatment & Tree Care
If you see this invasive species on your property and want to keep your trees safe, contact Stein Tree Service. Stein performs commercial and residential plant and tree care services, including plant health care (PHC), tree removal, trimming, and pruning. Our team of tree care specialists is certified to treat in areas of spotted lanternfly infestation in Delaware and Pennsylvania. Contact us for a free consultation.