FAQs About Tree Trimming in Brandywine DE
Most people who have trees growing on their property ask the same questions about tree trimming in Brandywine DE. Below are some of the most common questions, along with answers to make trimming your trees as simple as possible.
How Often Should I Trim My Trees?
Most trees only need to be trimmed once or twice a year. Trimmed too often, a tree can become stunted and lose its natural shape.
If you want to keep the appearance of your trees looking neat, trimming them once every year or two is usually sufficient. If you have trees that will grow to be very tall, you should begin pruning early so that you can avoid them overgrowing their allotted space while maintaining an attractive shape and healthy branch alignment.
Can One Company Do Both Tree Trimming and Removal?
Yes, one company can handle both tree removal and tree trimming in Brandywine DE landscapes, as long as the company has the necessary equipment and expertise.
A company may offer both services as part of an overall package. This means that they could be able to handle both types of jobs in your landscape during one workday and save you money in the process.
Stein Tree Service has state-of-the-art equipment appropriate for safe and effective tree trimming, tree removal, and cleanup, such as lift trucks, mini spider lifts and trimming tools.
You will also want to make sure that they have liability insurance coverage in case anything goes wrong while they are working on your property or trees. This is important because if there were an accident or injury while they were performing their duties, then they would be liable for any damages or injuries caused by their actions during the job itself (or lack thereof).
Should a Tree Trimming Company Be Licensed and Insured?
Yes! Make sure that your tree trimming company is licensed and insured to protect yourself. If an accident occurs on your property that results in bodily injury or damage to property, you could be liable if your tree care professional is uninsured.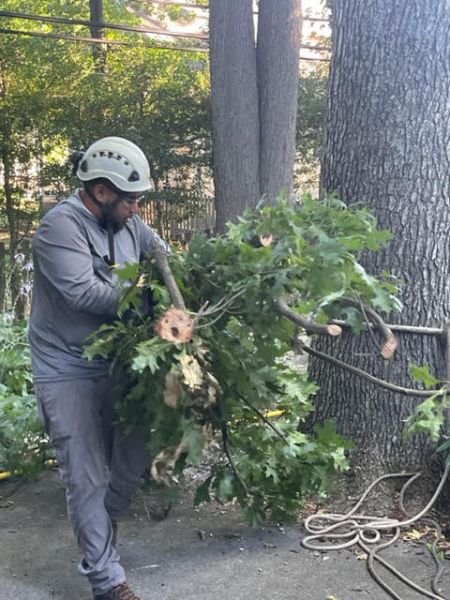 Stein Tree Service tree specialists are well-trained and careful, but accidents can happen. We are licensed and insured for our protection and yours.
Contact Stein for Exceptional Tree Trimming in Brandywine Delaware
Stein Tree service has been taking care of Delaware and Pennsylvania trees for over 30 years. We are the oldest independently owned tree care service company in Delaware and we take pride in our exceptional service. Contact us today for tree trimming in Brandywine DE as well as shrub pruning, tree removal and more. We offer free estimates!
Tree Trimming Locations
---
Bear, DE
Brandywine, DE
Delaware
Elsmere, DE
Glenn Mills, PA
Glasgow, DE
Greenville, DE
Hockessin, DE
Kennett Square, PA
Malvern, PA
Media, PA
New Castle, DE
Newark, DE
Newport, DE
Pike Creek, DE
Ridley Park, PA
Stanton, DE
Talleyville, DE
West Chester, PA
Wilmington, DE
Why Choose Stein?
Staff
Our staff is the best in the business and has hundreds of years of combined experience. Our professional tree service company has ISA Certified Arborists, Registered Consulting Arborists, Certified Tree Risk Assessors, Licensed Foresters, Certified Professional Horticulturalists, Registered Tree Experts and Certified Applicators.
Equipment
Our equipment is state-of-the-art and radio dispatched for immediate response. The company fleet consists of several aerial lift trucks, chippers, chipper trucks, and stump grinding machines as well as various pieces of machinery for right of way work.
Reputation
Our reputation speaks for itself. We have served thousands of customers throughout the Delaware Valley and maintain the highest level of customer satisfaction. The vast majority of our business comes to us via referrals from past customers.
REQUEST A FREE, NO OBLIGATION CONSULTATION